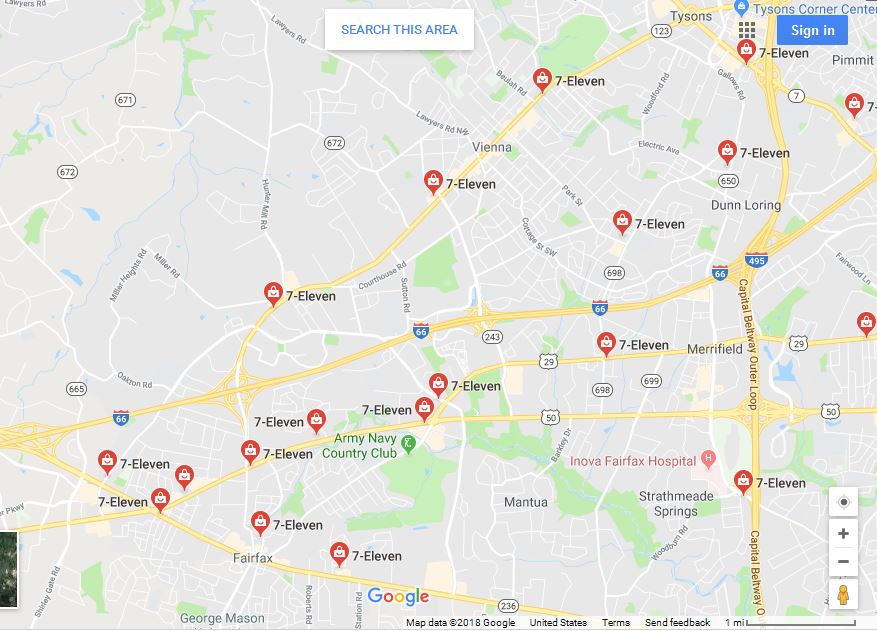 This is a brief note about Maple Avenue, but not related to MAC zoning.  It's about Wawa.
There's a rumor that Wawa is coming to Vienna.  But that appears to be completely separate from the deal to refurbish the dead gas station at Maple and Park while adding a large convenience store.  You can read the corrected reporting on that here.
Assuming that's true, we're going to end up with, on Maple Avenue:
A convenience store the size of a 7-11, at Maple and Park, with the refurbished gas station.
A Wawa, location to be determined.
Two existing 7-11s, one on the east and of Maple, one on the west end.
This is on a strip of road where the market has already shown that there isn't enough business to support three 7-11s.  There used to be third 7-11 on Maple, at the corner of Courthouse and Maple, but that closed … I would guess seven years ago.
So the equilibrium number of full-sized convenience stores that Maple will support appears to be two.  Yet it looks like we will soon have four.  On top of that, there's already another under-used gas station on that side of the street, just east of Beulah.
What I'm getting at is that this is going to be a tough market for the new combination gas station and convenience store to survive in.   And Virginia environmental laws are already requiring them to bear the cost of digging up and disposing of the existing gas tanks and the soil surrounding them.
So in that context, for the craziest aspect of this, I tip my hat to the fact that the Town of Vienna is requiring the refurbished gas station to pay for burying the power lines and adding broad brick sidewalks.  (Of course!)  As if they were not facing a difficult enough situation already.
But, let's face it, obviously we need broad brick sidewalks there.  I mean, who here in Vienna doesn't look forward to a leisurely arm-in-arm stroll around the local gas station, on the busiest road in town?
Here's my point.  The gas station has been empty for the better part of a decade.  The new owners already face substantial costs in required environmental clean-ups.  One market they have chosen to enter — convenience store — appears already saturated by two well-placed 7-11s, with the closure of a third 7-11 a part of the economic history of the area, and with a tough new competitor (Wawa) poised to enter the market.  The other market, for gas stations on west-bound 123 — has yet a second marginal gas station less than half-a-mile up the road.  And no rational person thinks of a gas station as a pleasant walk-to destination.  If there is any business for which the sidewalks out in front have nothing to do with the business on the lot, I'd say it would be a gas station.
And yet the Town makes them "voluntarily proffer" to bear the cost of burying the power lines and creating broad brick sidewalks.  Because those things somehow trump all other considerations, here in the Town of Vienna.