Note:  This is not an actual survey.  I'm not collecting answers to these questions.
Question 1: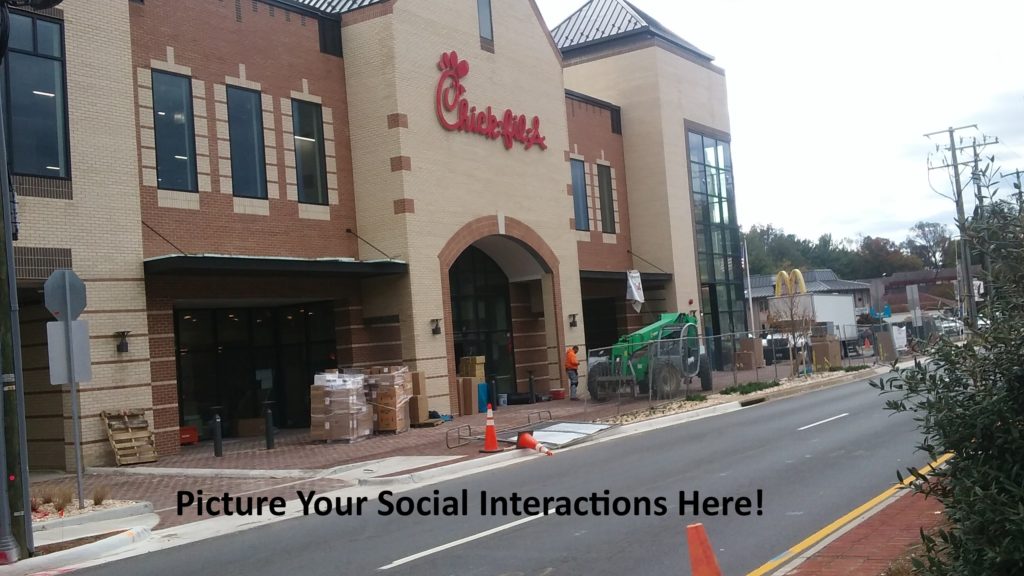 Above you see the Chick-fil-A-car-wash.  It's a reasonable proxy for what MAC zoning will bring to Vienna.  The building itself stands 43′ tall; the tallest tower is 62′ tall.
The front of the building sits 24′ to 30′ off Maple Avenue.  That "setback" provides a private-property gathering space where Vienna citizens can socialize, as long as they buy something from the Chick-fil-A.
The Town of Vienna is considering allowing developers to place buildings like this all along Maple.  Most will have housing on the upper floors instead of a car wash, typically condos or apartments.
Citizens of Vienna will get a series of these private-property gathering spaces adjacent to Maple Avenue, similar to the front of the Chick-fil-a-car-wash, along with new mixed-use (retail and housing) buildings.
The initial wave of construction (approximately a dozen new buildings) will result in a one-third increase in the number of cars on Maple Avenue during rush hour.
Question:  Should the Town of Vienna proceed with this plan?
Yes
No
---
Question 2: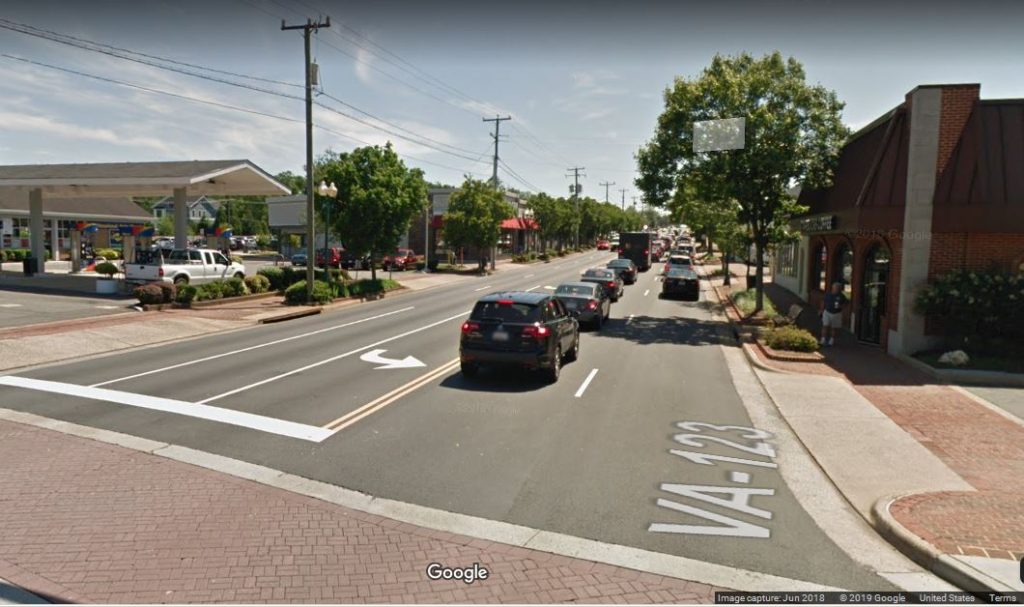 Would you like to see the above-ground power lines along Maple removed (i.e., buried underground)?
Yes
No
---
Question 3: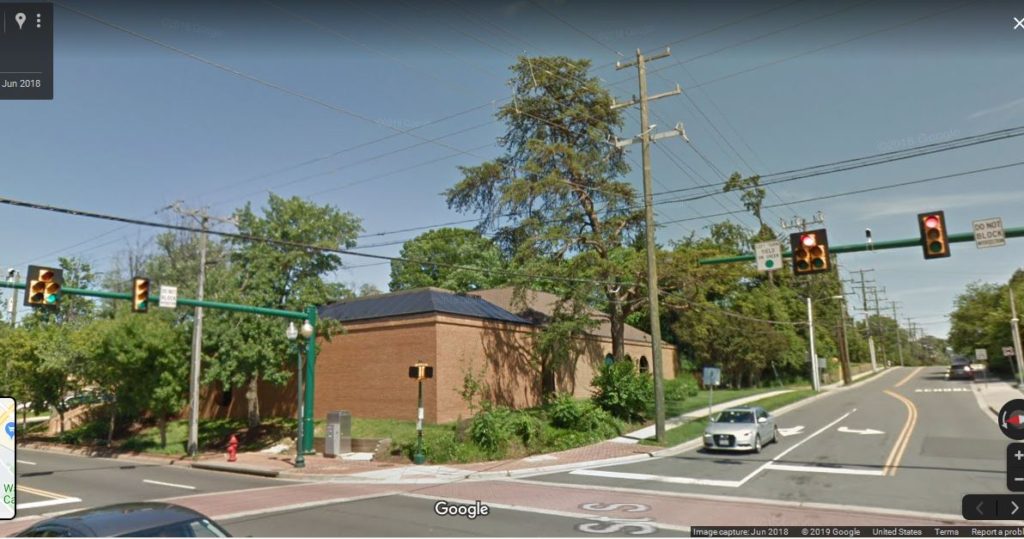 The Town of Vienna is considering whether or not to remove the above-ground power lines along Maple.  This will cost the Town approximately $20 million.  Only the lines running along Maple will be removed, not the power lines that cross over Maple (as illustrated above).  Power lines will not be removed on any of the other streets in Vienna.
Should the Town proceed with its plan to remove (i.e., bury) the above-ground power lines along Maple?
Yes, please spend $20 million to remove some of the power lines on Maple.
No, please find a better use for that money or don't spent it at all.
---
Question 4: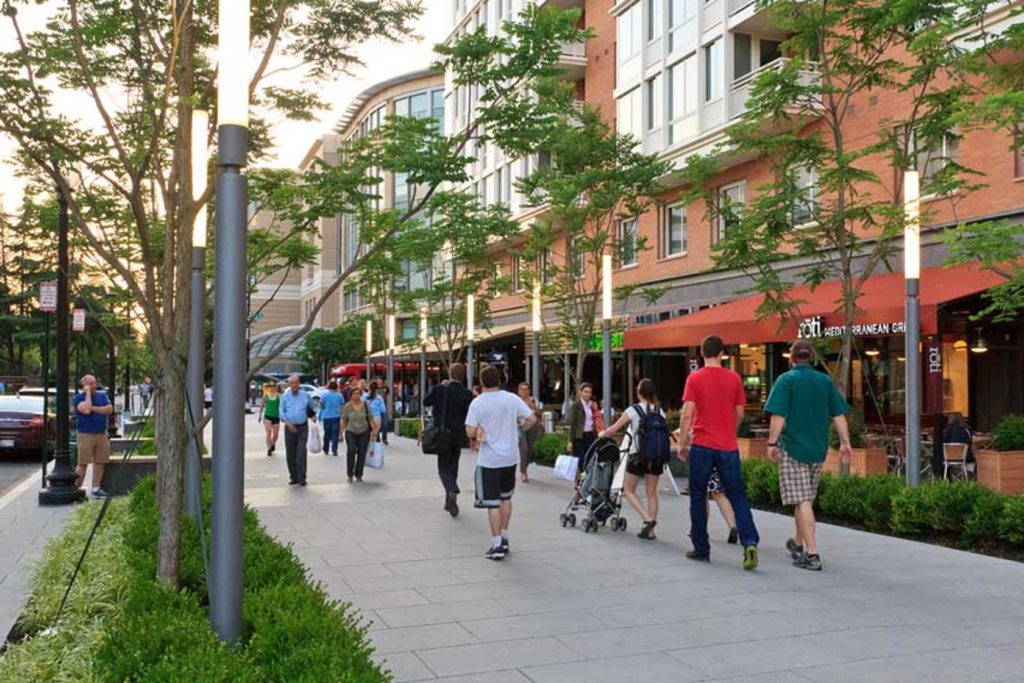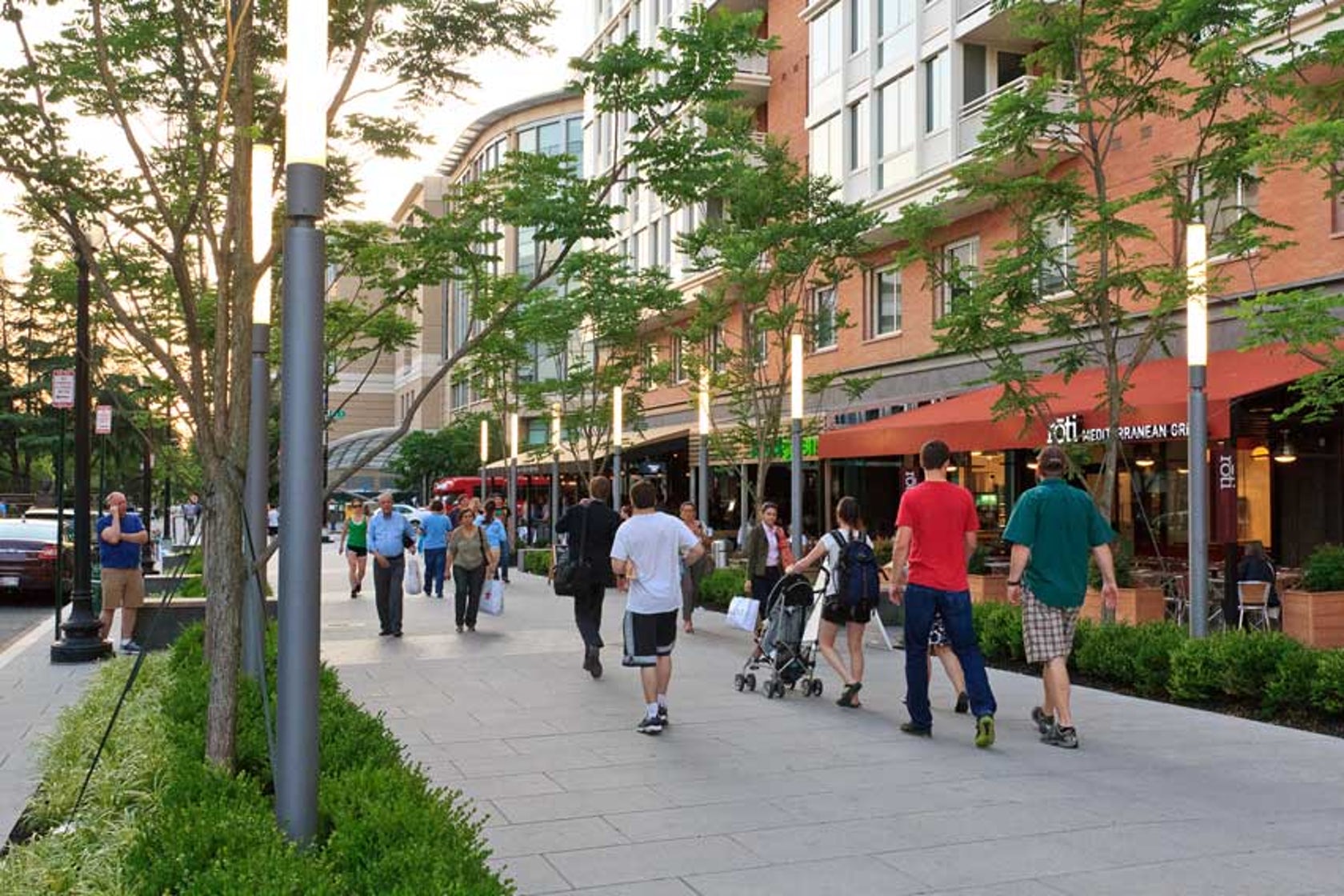 The Town of Vienna is going to survey its citizens regarding MAC zoning.  Should the Town use actual pictures of actual MAC buildings, or should they use pretty pictures of far nicer streets, as shown above.  That is, should the Town use pictures of streetscapes that are far nicer than Maple Avenue could possibly be,  in order to gather opinions about what to do with Maple Avenue?
Choose one:
Show me reality (actual Maple Avenue)
Show me fantasy (locations that are much nicer and more spacious than Maple Avenue)
---
Question 5:  Bonus question.
If you laid $20 million worth of $100 bills end to end, in a straight line, starting at Maple and Center, how far could you get?
Gainesville, VA
Germantown, MD
Dale City, VA
Andrews AFB, MD
Any of the above