This post has nothing to do with zoning.  Instead, it's a plea to keep the Vienna farmers' market open later in the year.  And related issues.
Economics
Most of what you need to know about the economics of farmers' markets can be summed up in one number: Farm share of the cost of grocery store produce.
You can find the underlying USDA data at this website.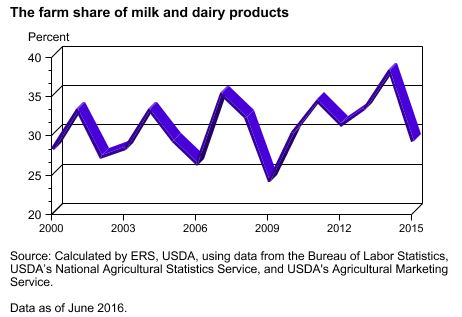 In a nutshell, maybe 30 cents on the dollar.  So, selling directly to the consumer, at (roughly) grocery-store prices, gives them three to four times as much revenue per unit sold.
Put aside the other potential benefits and costs.  The produce is fresher.  It travels a shorter distance, but likely travels in a less fuel-efficient fashion.  It supports small business.  And so on.  Fact is, tripling per-unit revenues, relative to other sales outlets, appears to provide a good incentive to participate.
---
Local last dates for farmers' markets
It's a fair bet, then, that farmers would like to continue the Vienna market for as long as they have customers.  Currently it ends in October, so that would mean extending into November, say?
While the Optimists run the market, it's Town regulations that end it in October.    The allowable first and last dates, the monopoly status of the market, and the hours, are all literally prescribed in Town statute.
Sec. 18-154. - Display of merchandise.

... , the Town Manager is authorized to permit one private farmers' market or marketplace in the Town each year from May 1 to October 31, ... The hours of activity shall be limited to 7:30 a.m. until 1:30 p.m., Saturday only.
By contrast, here's the month in which other local Fairfax County farmers' markets shut down (via Falls Church, Fairfax City, and Fairfax County websites):
| | |
| --- | --- |
| Vienna | October |
| Fairfax City | October |
|   Wakefield | October |
|   Kingstowne | October |
|   Oak Marr | November |
|   Lorton | November |
|   Annandale | November |
|   Herndon | November |
|   McLean | November |
|   Mount Vernon | December |
|   Burke | December |
|   Reston | December |
| Falls Church | None (year round) |
The conclusion is that the median farmers' market in Fairfax County runs through some time in November.  And that four of them run through December or later.
---
Local trend in first frost date
Those of you who are gardeners know what I mean by first frost date.  The first frost of the fall marks the traditional end of the growing season for field-grown crops.  Plants that aren't frost-hardy are killed off at that point.
Even though the US has experienced relatively little in the way of global warming to date, there has been enough to affect the basic parameters of hardiness zones and growing season, including the first frost date.
The most recent version of the USDA-defined plant hardiness zones show a pronounced northward shift.  These hardiness zones are defined by the average minimum winter temperature, so that shift is showing slightly warmer winters, on average.  (The best animation I found of that is here, at Climate Central.  You can also see the impact locally at this Washington Post page, and an interactive Washington Post map may be found at this page.)
With that as background, it should be no surprise that the first frost date is also coming later in the year, on average.   Here's a picture of the fitted trend in first frost date for Washington DC, from ClimateCentral.org.  The expected date of first frost is edging toward two weeks later than it was in 1970.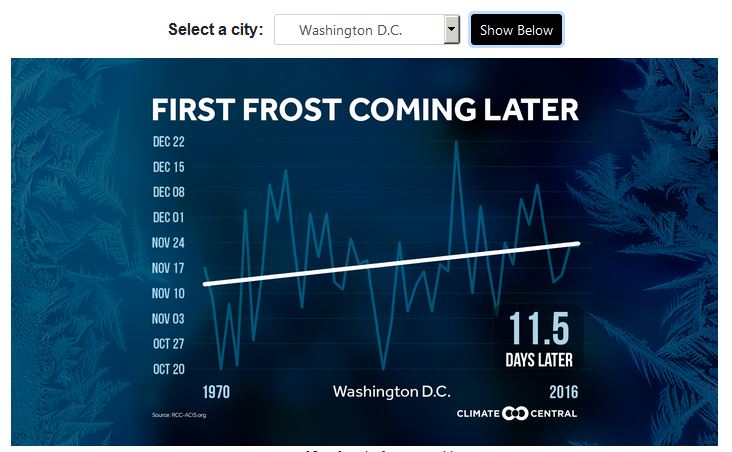 My point is that even for open-field-grown produce, the growing season extends later in the year.  So, even ignoring the fact that a lot of local produce is grown in poly tunnels, it's likely that local farmers are continuing to get harvestable quantities of produce later in the year (than they did a few decades ago.)  FWIW, that section of Town Code above appears to have been last updated about two decades ago.
---
OK, I lied
About not being about zoning.   But it's just an afterthought.
If ever there were a "gathering space" in the Town of Vienna, the farmers' market is it.  If we have a "vibrant, pedestrian-oriented" scene in town, it's right there.  Which sounds — and is — really corny,  but nevertheless is true.  It's also kind of small-town, despite the best efforts of some to expunge that adjective from our vocabulary.  Before going through all the fuss and bother to try to create more spaces like this, how about maximizing the one we already have?
---