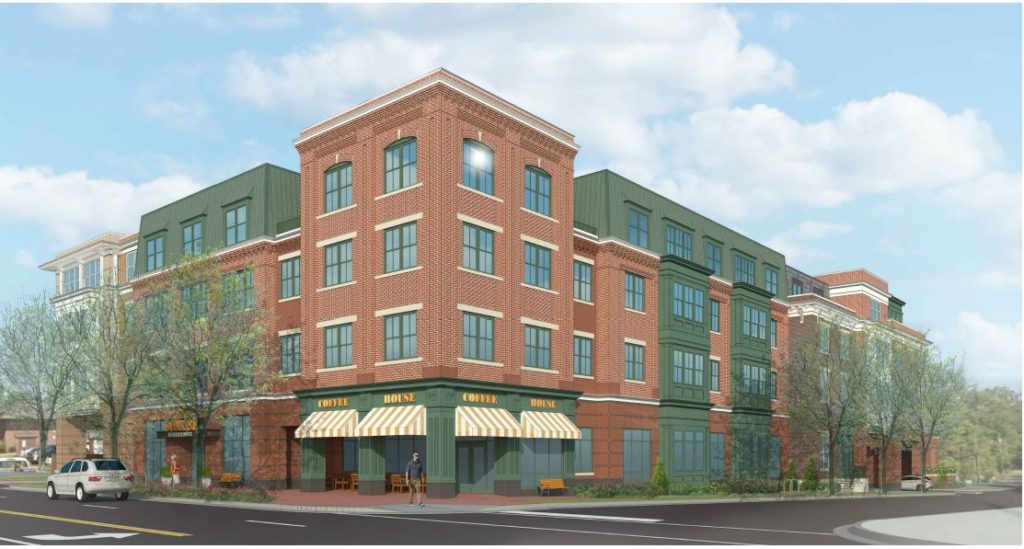 Artist's conception, eye-level view from across the street, Sunrise at Maple and Wade Hampton.  Source:  Rust Orling Architecture, Sunrise assisted living plans dated 12/13/2019, as posted for the 1/27/2020 Vienna Town Council meeting.
Tomorrow night's (1/27/2020) Town Council meeting will include a public hearing on the Sunrise assisted living facility at 380 Maple West (Maple and Wade Hampton).  This is the MAC project that was originally approved for roughly 40 condos plus first-floor retail, but after approval it morphed into an 85-unit assisted living with a captive cafe as the only first-floor retail space.
It's a pretty good bet that nothing will stand in the way of approval.  That said, if you wish to speak at this public hearing (for up to three minutes), show up at tomorrow's (1/27/2019) Town Council meeting, starting at 8 PM.  Meeting materials can be found at this link.
My understanding is that this is almost the last hurdle that Sunrise must face.   After this, the only remaining pubic meeting will occur just before they start construction, where the Board of Architectural Review will have to give one last approval.  Otherwise, this is the last word that the Town will have on this project.
---
What about that lawsuit?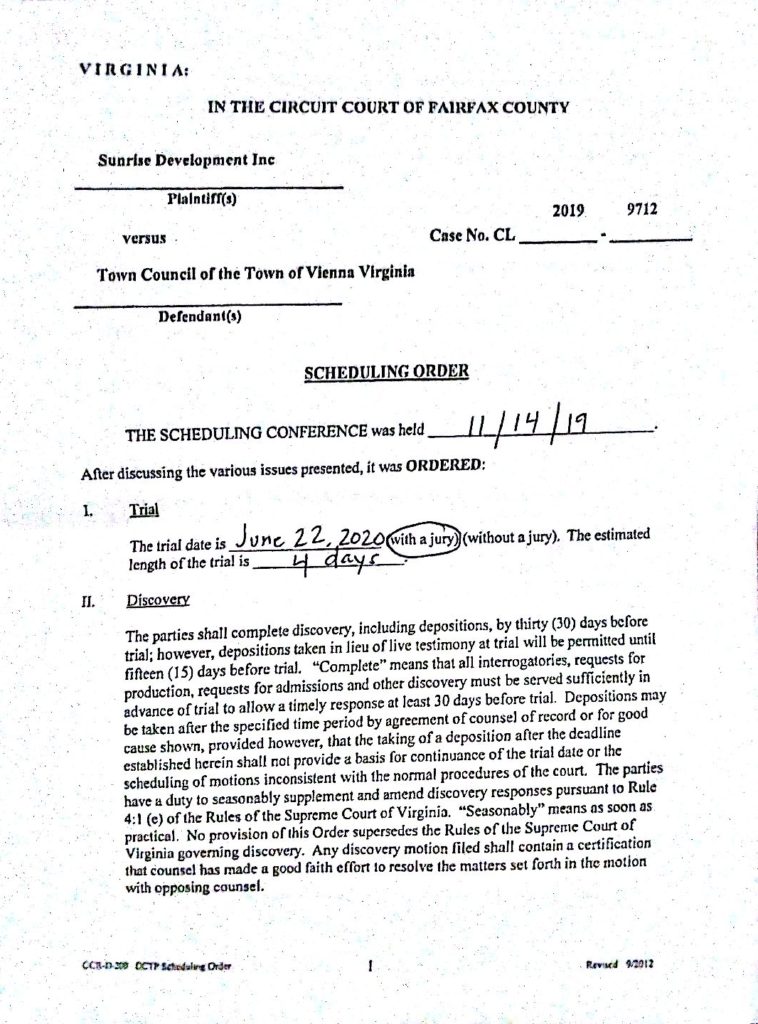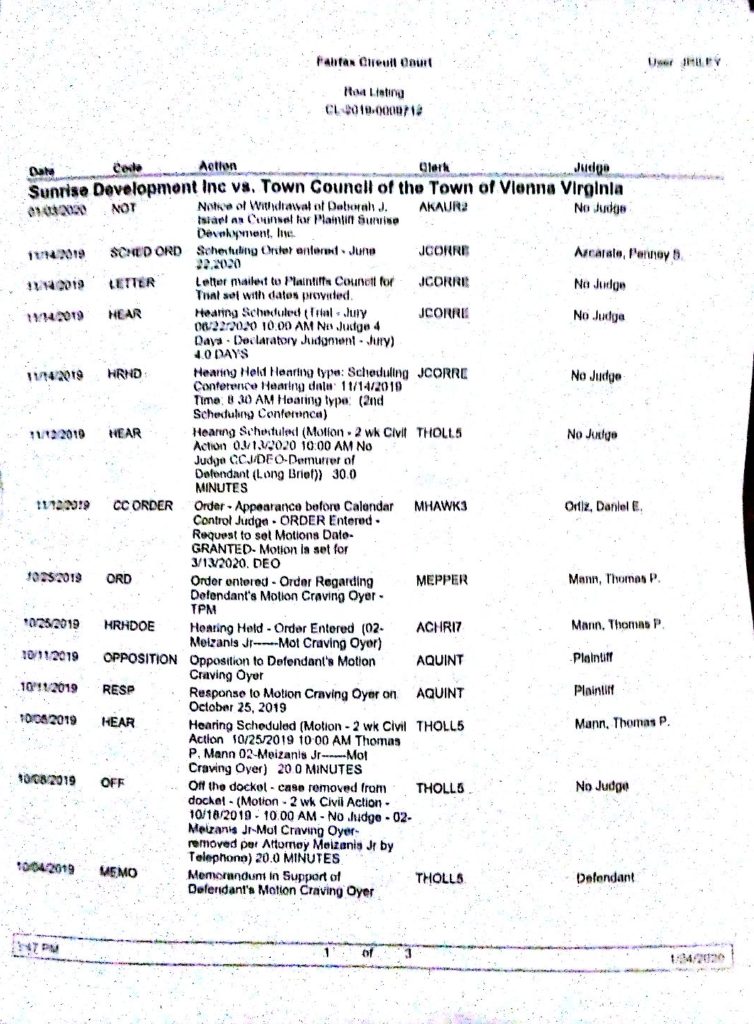 Source:  Fairfax county court, via Shelley Ebert.
Lurking in the background is Sunrise's $30M lawsuit against the Town of Vienna.  The lawsuit arose from the Town Council's denial of Sunrise's original proposal to build at Maple and Center.  For background, see Post #342, Post #353, Post #405, Post #441.
The gist of the lawsuit is a claim of age discrimination.  And the fact of that lawsuit is one of the reasons I say nothing will stand in the way of approval at the current location.
The that lawsuit appears still to be in process.  As of two days ago, the only change is that one of the lawyers had withdrawn from the case (apparently, to become a judge).  So, for sure, the lawsuit remained live as of 1/3/2010, and no change has been filed since then.  It remains scheduled for a jury trial in June 2020.
One would assume that once Town Council approves this tomorrow, Sunrise will feel comfortable enough that they'll drop the lawsuit.  But as of right now, it appears that they continue to pursue the lawsuit regarding the prior denial in the center of Vienna, even as they seek approval to build more-or-less the same building near the border of Vienna.
I don't think I can read anything into that other than sound business strategy.  It will be interesting to see whether anyone breaks the unwritten taboo at tomorrow's Town Council meeting and actually mentions the lawsuit in public (gasp!).  I'm betting that none dare be so gauche.  But that will at least give me something to look for, in what should otherwise be a snoozer of a pro-forma approval.