The graph above shows new COVID-19 cases per day, for the past 28 days, for Virginia (blue) and Fairfax County (orange).  This is updated to today (7/2/2020).
Whatever we're doing in Fairfax County, let's keep doing it.  New case counts for the past three days were 10, 14, and 22.  This is updated to yesterday, 7/1/2020.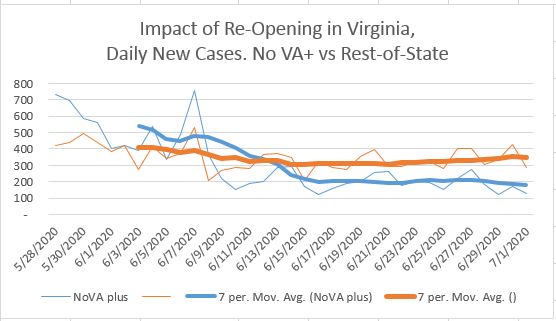 But while Virginia as a whole has a stable case count, new cases are rising slightly outside of the NoVA/Richmond areas.  Those slight increases are being offset by further declines in new cases in NoVA (plus Richmond City and Accomack County).
It would be a stretch (i.e., it would be wrong) to try to attribute that slight increase to Phase II re-opening.  That began on 6/5/2020 in the areas outside of NoVA/Richmond/Accomack, and began one week later in NoVA+.  We all went to Phase III yesterday (7/1/2020).
That said, we'd certainly like to know why NoVA+ continues to make progress, but the rest of the state does not.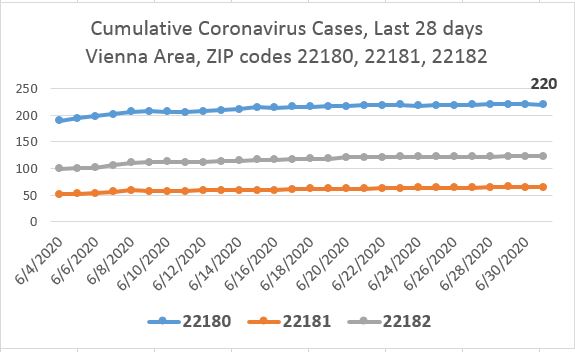 Vienna (ZIP 22180) is adding maybe a couple of cases per week at present.  Consistent with the low daily new case count in Fairfax County.  This is updated to yesterday 87/1/2020.