Note:  My wife found another Vienna, VA blogger who is tracking the COVID-19 numbers.  He obviously far better at graphics than I am, and you might want to check out his site for a more sophisticated set of views of the Virginia data.
I'm sticking with my flat-footed approach of three simple graphs.  These all rely on daily new COVID-19 case counts from the Virginia Department of Health.
Virginia (blue) continues to see somewhere around 1000 new cases per day.  It's been like that, plus or minus, for more than a month  now.  Fairfax County, by contrast, is now up around 90 new cases per day, up from maybe 60/day a month ago.

Consistent with the higher Fairfax County counts, the counts are up a bit in the late-reopening areas (NoVA, Richmond City, Accomack, blue) and falling for the rest of the state (orange).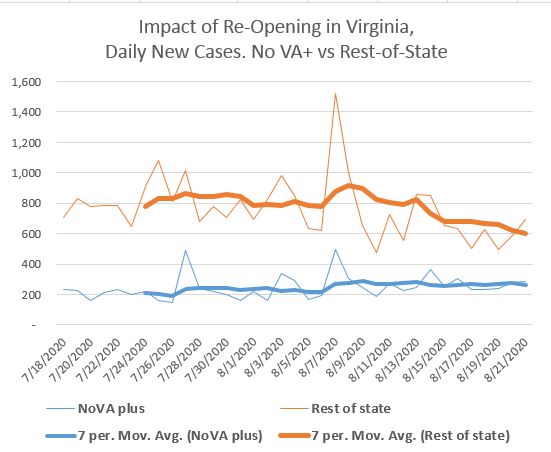 Finally, in Vienna (ZIP 22180), we continue to add about one new case per day.  It's been that way for some weeks now.