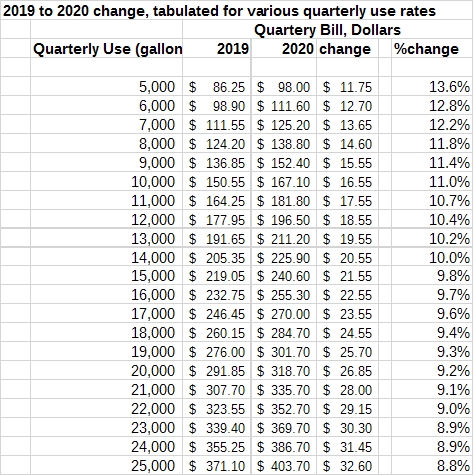 This is another of my contractual obligation postings, relating to government of the Town of Vienna.
Recall back in Post #448, where I described the Town's five-year plan to raise the water and sewer rates by about 50%.  The Town didn't really go out of its way to advertise that, or to advertise that it planned to raise those rates every year for five years running.
Each year, as the rates go up on July 1, it seems like there's a spate of complaints about high water bills, as the next quarterly bills come out.  But what you see above is the exact calculation of the rates.  I'll post the spreadsheet below.  Unless the Town literally made a math error, you should be able to come close to your bill by looking up your usage on that table.
If you got a whopper of a bill, I can only urge you to go to Post #448 and read about outdoor water use.  In particular, this statement of fact, based on hourly consumption by the average lawn sprinkler:
"Water your lawn for an hour a day, every other day, over a quarter, and it'll cost you $720 now, and $900 in 2023."
The "now" was 2019, so it would be about $790 in 2020.
I used city water a few times to water my garden during the June/July heat wave.  So, unsurprisingly, by last bill was quite a bit higher than my previous bills.  Here are my approximate last four quarterly payments to the Town, for water bills, in reverse chronological order:  $221, $139, $121, $154.  Back-solving, the Town says my water use jumped by about 4000 gallons in the last quarter.  And while I don't feel like I used that much water for outdoor use, I am sure that I used at least 1000, possibly 2000 gallons for that purpose.  The rest could easily be random quarter-to-quarter fluctuation.
One change that was never made clear is that the Town used to calculate summer water bills differently.  They wouldn't charge the sewer charge for the increased use, under the assumption that increased summer use was outdoor water use, and didn't generate sewage.  I believe they quit doing that, with this five-year plan to raise the rates.  So if you've been around here for a while, and you had the impression that outdoor water use is cheaper, you're out-of-date.  As I understand it, that used to be true, but no longer is true.  (But I'm not totally sure about the facts for that one, as it seems to be undocumented and/or I couldn't find the documentation of these changes on the Town website last year.)
You can download a simple spreadsheet (.xls) water bill calculator by clicking the link below.  Plug in your estimated quarterly usage, it'll show you the bill you would have paid from FY 2017 to FY 2020.  (I'm not sure how the Town handles bills that span the July 1 start of the fiscal year — I would assume they charge 2019 rates for 2019 use, and 2020 rates for 2020 use, but I've never seen that said explicitly.)