New case counts are now falling in a clear majority of states again.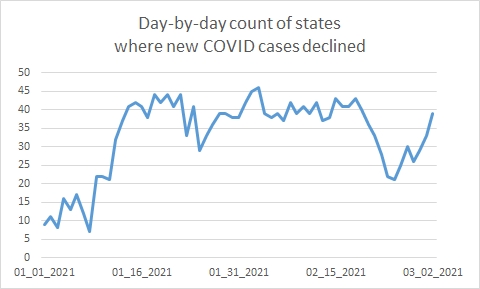 Source:  Calculated from NY Times Github COVID-19 data repository, data reported through 3/2/2021.
For the U.S. as a whole, we ticked down one more percentage point, comparing the current daily new COVID-19 case count to the peak.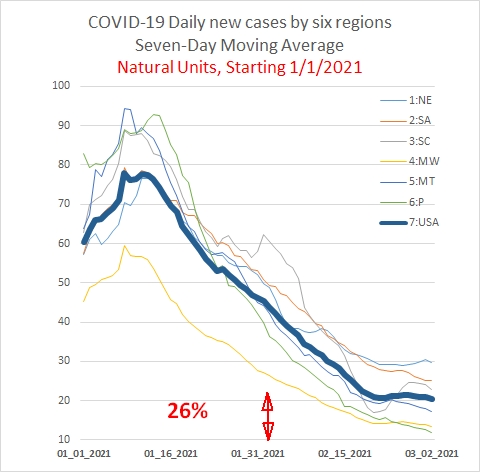 Not all regions have returned to their former rates of decline.  (On the graph below, that would happen if the slope at the right end of the line matched the slope of the rest of the line).  But the only really dark spot is the Northeast, with cases flat-to-rising in most of the states there.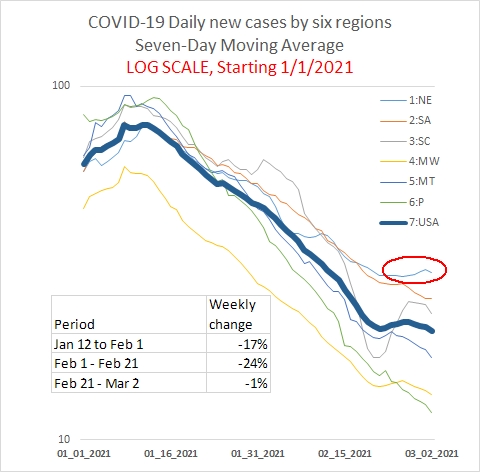 In the central regions of the country (Midwest, Mountain, South Central), the behavior of the individual states is oddly uniform and "asymptotic".  Meaning that there's little variation across states, and while rates are drifting downward, there's no clear indication that any of them will approach zero any time soon.
The Midwest is a prime example, but this applies to a greater or lesser the entire mid-section of the country.
As if they were all settling toward the same low, chronic level of COVID-19 in circulation.  I don't know what to make of that, other than to say that it does not suggest a swift end to the pandemic.