There are slowing declines in new case counts, and a far-from-uniform national picture.    The individual regional "threads" continue to unravel at the end of the national rope.  Day-to-day, daily new cases fall in the majority of states.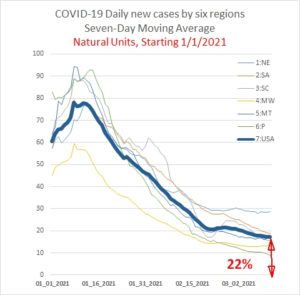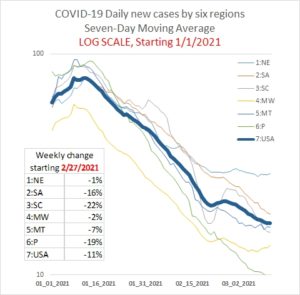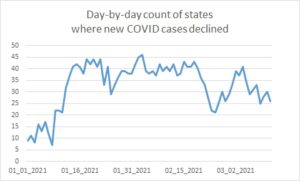 Source:  Calculated from NY Times Github COVID-19 data repository, data reported through 3/12/2021.
The spread of the U.K. COVID-19 variant continues as predicted in the U.S.  Helix corporation updated its dashboard to 3/10/2021 (or two more days of data since the last update Post #1051).  Helix provides a daily snapshot of the incidence of the U.K. COVID-19 variant in the U.S.   For the U.S., the number continues to increase on-track.  Their marker for the U.K. variant B.1.1.7 accounted for 32% of new cases as of 3/8/2010.  It's now 36% of new cases as of 3/10/2010.
(Data sourced from the Helix® COVID-19 Surveillance Dashboard. Accessed at Helix.com/covid19db on 3/11/2021 and 3/13/2021.)
But if the current pattern of new COVID-19 cases in the U.S. has anything whatsoever to do with more contagious COVID-19 variants, it surely escapes me.   The states with highest incidence of (presumed) more infectious variants are not showing upturns in new case counts.  Instead, they are showing every possible other behavior.
NY new cases are flat, FL new cases are declining slowly, CA new cases are declining rapidly.  The CA new case decline has pushed the Pacific region below 10 new cases/ 100,000 / day.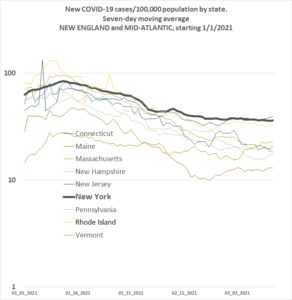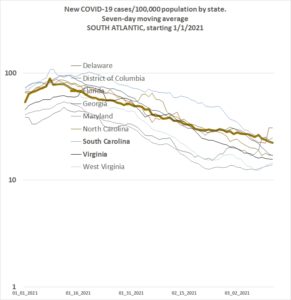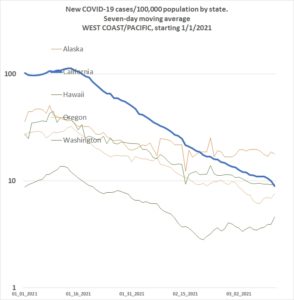 Instead, where are cases rising?  Minnesota and Michigan.  With an assist from South Dakota.  Enough so that the new case counts for the entire Midwest are rising slightly.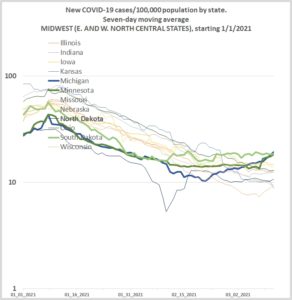 My only conclusion is that we don't need foreign variants to make trouble in the U.S.A.  We seem to be perfectly capable of doing that on our own.
---
Quietly fading away.
You will note, if you read the headlines, that nobody's talking about those more infectious variants in the U.S. any more.  Or, at least, those don't show up on Google News unless I specifically search for them.
After weeks of bold headlines, and multiple dire warnings from the top of the U.S. public health bureaucracy, all we seem to be getting now is silence.  Now that all of those predictions are not coming true.
And that is just so wrong.  What we really need is accountability.
Plausibly, there may (or may not) be a good reason that we're seeing no impact from the much-hyped variants, such as the B.1.1.7 U.K variant.  Plausibly, we're so close to herd immunity, and are vaccinating at such a rate, that we're able to suppress the variant-related surge (Post #1051).
But also, plausibly, somebody goofed.  Plausibly, someone was fundamentally mistaken about something fairly important.
And, plausibly, somebody was dead wrong.  Just like the much-hyped "explosion" of cases that was supposed to occur after the Super Bowl.  People of some national importance confidently and publicly predicted an event that simply failed to happen.
I think it's fairly important to understand why we're not seeing a surge related to these presumably more-infectious variants.  But we can't have any understanding of that if we can't admit that we're not seeing that surge.  And we can't admit it, because that would mean that some important people would have to be forced to admit to being wrong, first.  But that won't happen, because even the best of the popular press is so firmly focused on fear-based reporting that once a story ceases to have some significant scare factor, it ceases to be a story.
There's no story in "why didn't things go wrong".  And so there's no followup.  And no accountability.  Thus leaving people free to shoot their mouths off with no factual basis, without fear of being held accountable.
I realize that, at this point, it's late enough in the pandemic that all of this is moot.  In a few months, this should mostly be over in the U.S., except for a few minor issues.
Including but not limited to:  The need to be vaccinated annually for the rest of your life.  The residual circulation of COVID-19 in the population, much like flu virus.  And the continual small risk of infection for those who refuse vaccination, due to that residual circulating virus.  None of which would disrupt what we used to consider normal life.
That said, I don't think anyone can fail to grasp how dysfunctional our public information and public discourse are these days.  From social media, to right-wing media, to mainstream media, if nobody can give a crap about whether something was true or not, then I don't really see that situation improving in the future.
If the U.K. variant is 40% more infectious than others, and it's taking over the U.S., why aren't cases rising?  And what mistake was made by those predicting a surge from these new infectious variants?
Near as I can tell, the only person I can find who has even tried to answer that seriously is me.  And that's pathetic.
I found exactly one published example of someone who was even willing to take a stab at answering that, and the answer boiled down to speculation without anything quantitative.  That's a reflection of all the interest that we, as a media-driven society, have in addressing and answering this question.