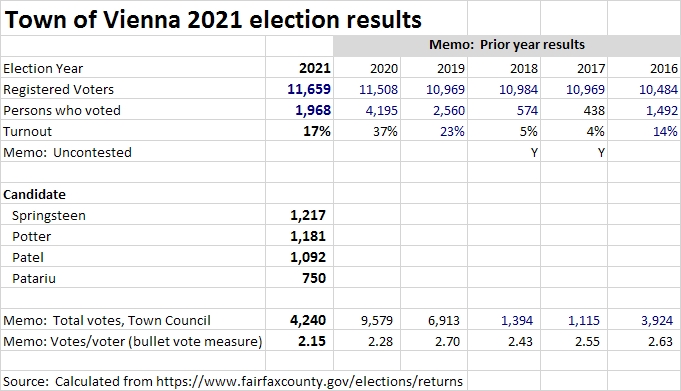 The people of Vienna have spoken, and they wanted the incumbents, not the challenger.   Turnout was middling, for a recent contested election in Vienna. 
Whatever-it-was that people feared from bullet voting (voting for fewer than three candidates), they should have been retroactively afraid for the past election.  To the extent that the numbers on the last line differ from 3.0, that means that people voted for fewer than three candidates.  By eye, judging from the election-to-election variation in that in the past, the 2.15 figure for the 2021 election was not materially different from the 2020 election.
Congratulations to the incumbents.  Councilman Springsteen gets bragging rights for the next two (and a half Post #1135) years.
Condolences to the challenger, David Patariu. He was a longshot candidate from the outset.  I don't really think he could have done much more.
The interesting question now is whether Town Council will take this as an opportunity to act on the issues that Patariu brought up.  Now that he's been defeated, they don't have to view those issues through a political lens.
And here, in particular, I have in mind Beulah Road Park, and the opportunity the Town has to rethink its use of that land, and the burden they've imposed on the surrounding neighborhood.  Their own consultant's report makes it clear that they could continue leaf collection in Vienna without despoiling that property, for a minimal cost.  Will they do that, or will they breath a sigh of relief that there's no longer any candidate highlighting that issue, and  turn their backs on that neighborhood once again?
---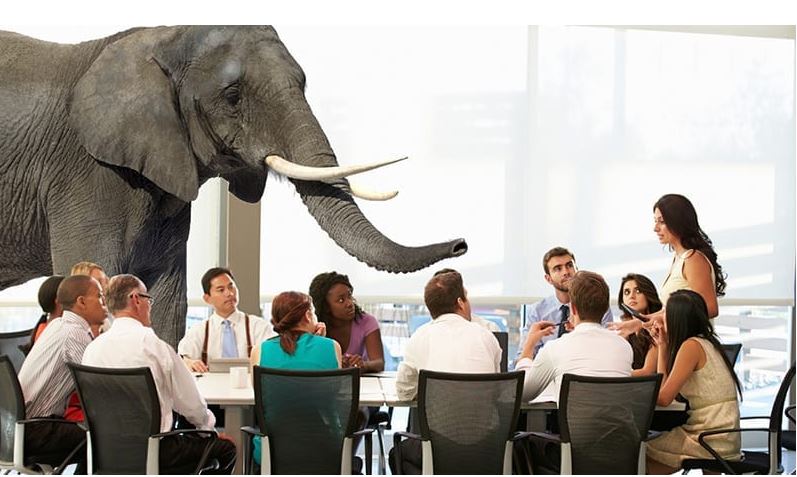 For me, for this election, the elephant in the room was the rezoning of the Town that will be passed at the end of the year.  That has the power to reshape Vienna.  We're fully at the mercy of the incumbents now.
Some Town Council members — Springsteen and Potter — made some fairly clear statements against large buildings on Maple in the past.
I recall Councilman Springsteen's vivid description of the Chick-fil-A-Car-Wash via his wife's reaction:  "You voted for that?".  If that building was too large, I would hope that he wouldn't vote to allow buildings that size or larger under the revised zoning.  But until that actually happens, that's just a hope.
Councilman Potter was originally elected on the strength of a petition that he organized against a 150-aparment building in his neighborhood.  That, and a now-moribund organization called "Vienna Citizens for Responsible Development".  Once elected, when faced with the Planning and Zoning proposal for 70′ building heights said, simply, he was not elected with a mandate for taller buildings.
You'd hope that would mean he'd remain a staunch advocate against higher-density development.  But as above, until the dust actually settles on the rezoning, that's just a hope.
One of the more unnerving things about this election was to see candidates that I thought were in favor of lower-density development being given significant social media exposure by a prominent local real estate agent.  (This, in the same Facebook group that instructed its members to give pro-development answers to the Town's recent internet survey.)  Does willingness to accept that help signal a change of heart, or just a willingness to accept re-election help from any quarter?
One other Town Council member — Anderson — fought strenuously against the large development going up across the street from his home.  I believe he may have even sued the Town over it.  Will he fight as hard against higher density for the Town as a whole?  I'd like to think so, but again, until the vote is cast, it's tough to say.
In short, are they still voices for keeping redevelopment density down in Vienna, or not?  And even if so, will they be enough to guarantee a more moderate approach to redevelopment along Maple?
In any case, they own those seats, and will have them when rezoning is passed at the end of the year. It's up to them now.
At my end of Vienna, we already have more new residences under development, directly on Maple, than there are in the entire surrounding neighborhood (bounded by Maple, Courthouse, and Nutley).  That's just for the first two buildings to be redeveloped there (444 Maple West, 140 apartments, 380 Maple West, 80 assisted living apartments).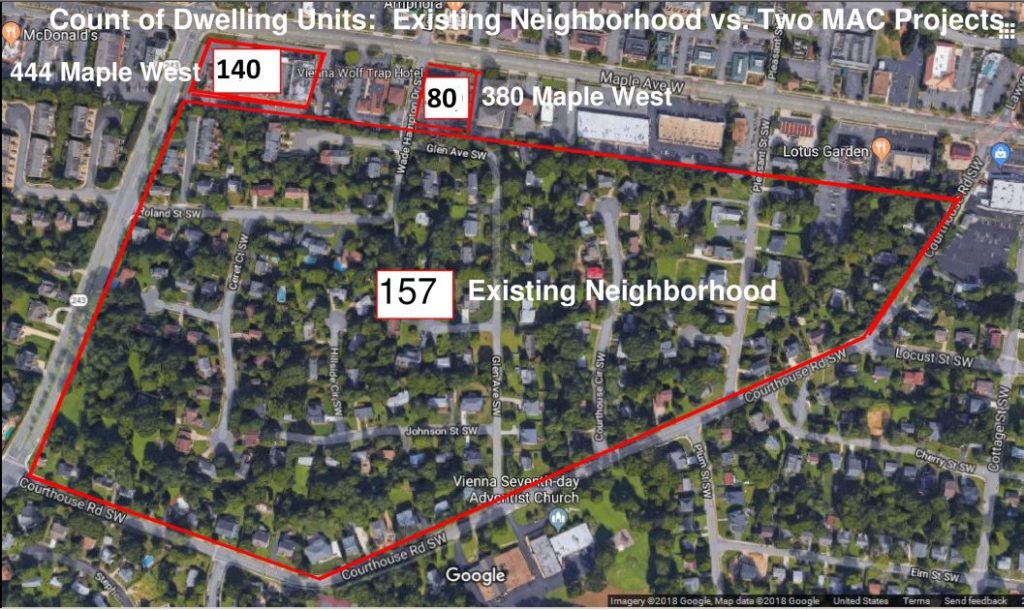 Imagine filling in the rest of the lots along Maple at similar or higher density.  Let me help you image.  Below, this is what commonly happened in morning rush hour, pre-pandemic, literally where the exit to 444 Maple West will be located.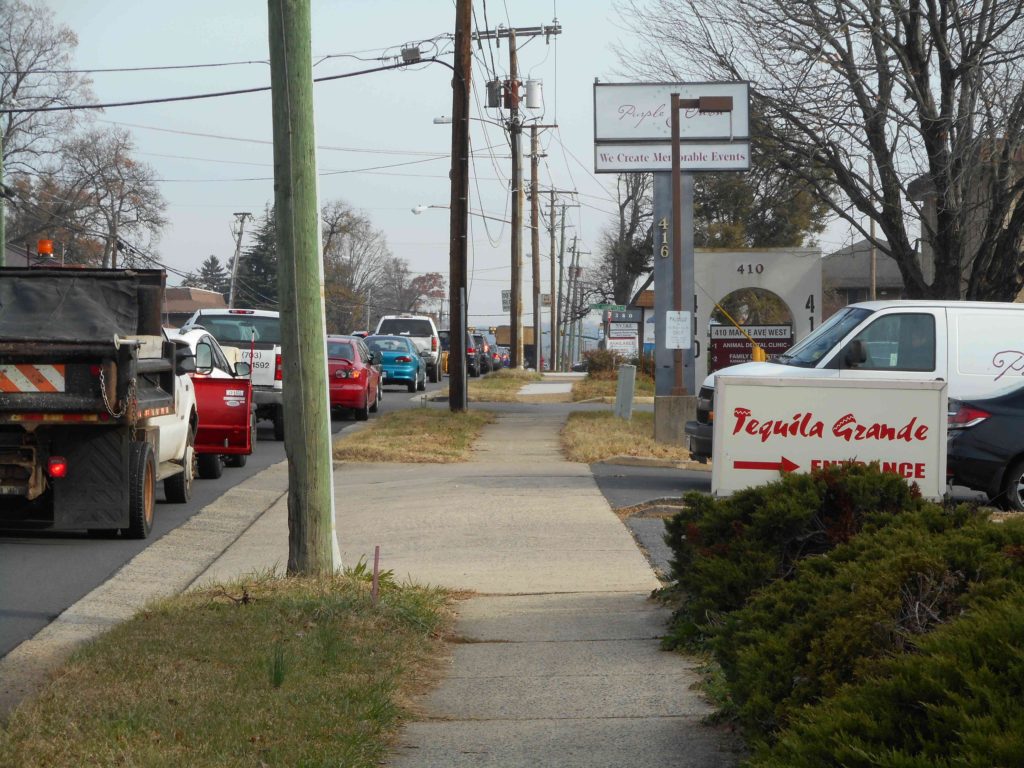 We've seen the Town Council vote to pile on to the situation depicted above, and then claim it's not their problem.  The Town has clearly signaled that it will do absolutely nothing to reduce cut-through traffic from the medium-density development.  Even though it's their decisions that are allowing that development.  But, in my neighborhood, depicted above, that was for one project at a time.  All we can do is keep our fingers crossed that they won't do that when they rezone all of Maple.