New US COVID-19 cases fell about 11% in the last seven days.  That's mostly due to sharp declines in the South Atlantic (e.g., Florida) and South Central (e.g., Louisiana) regions.  By contrast, over the past seven days, there has been no change in the new case rate in the U.S. Mountain region.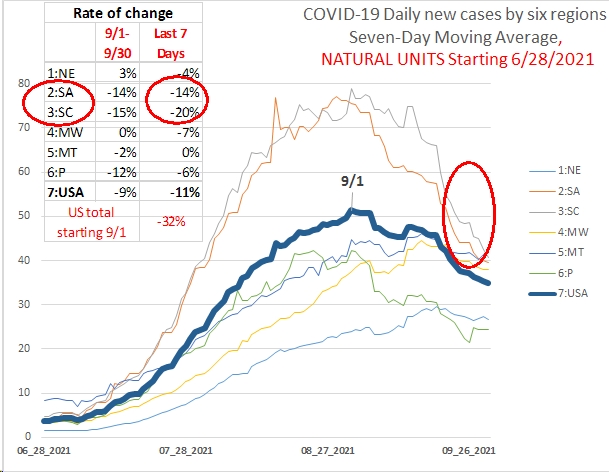 Source:  Analysis of data from The Johns Hopkins University Github COVID data repository.
---
Technical note:  As was true for Post #1264, for this update I'm relying on data from Johns Hopkins.  That shifts all the numbers just a bit, as illustrated by yesterday's growth table, from the two sources, side-by-side.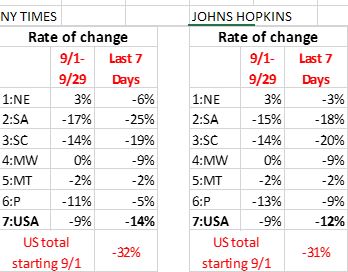 ---
I should probably talk a little more about the mountain region.  As is customary, I show the data to you as a seven-day moving average.  That smooths the data, but it also makes it a bit sluggish.  I don't show the raw daily data, but I can see it as I process it.  In effect, I can peek at the actual trend, not the seven-day moving average.
This week, a cluster of northern Mountain/Midwest states — Montana, Wyoming, Idaho, North Dakota — all had strings of days with case counts in excess of 100 / 100K/ day.  As that works its way into the data, I'd expect to see the seven-day average been rising for that region. That matters, I think, because that was the area that led the start of the winter wave last year.
The only other thing of note is that Alaska got one more day of hiatus.  So there's now a little plateau at the top of the spike that is the Alaska curve.  No other state is even close to breaking 100 cases/ 100K / day.