Currently, the U.S. as a whole is seeing 31 new COVID-19 cases / 100K / day.
Daily new COVID-19 cases for the The U.S. are now 40% lower than at the 9/1/2021 peak of the Delta wave.
That 40% decline since 9/1/2021 is made up of:
Three regions (South Atlantic, South Central, Pacific) where daily new cases are down by about half.
Three regions (Northeast, Midwest, Mountain) where daily new cases are roughly unchanged.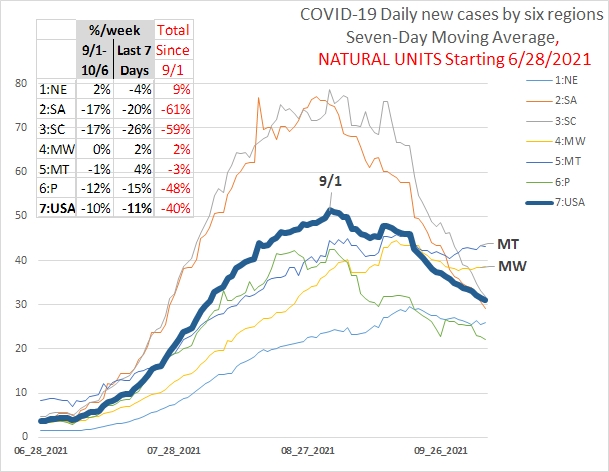 Data source for this and other graphs of new case counts:  Calculated from The New York Times. (2021). Coronavirus (Covid-19) Data in the United States. Retrieved 10/7/2021, from https://github.com/nytimes/covid-19-data."  The NY Times U.S. tracking page may be found at https://www.nytimes.com/interactive/2020/us/coronavirus-us-cases.html.
Final update on the Virginia school reopening analysis
Because this is a post about nothing much new happening, I thought I'd update my analysis of the impact of K-12 opening in Virginia.  Fears about school reopening seem to have faded — in Virginia, at least — so it's a pretty good bet that a) once again, I'll see nothing and b) there's no practical point to continuing this.
Recall that I'm using the staggered opening dates of K-12 schools across Virginia as a "natural experiment".  If school reopening generates a lot of new cases, we ought to see the share of new cases attributable to the school-aged population rise.
But that's not happening.  Maybe there's a little upward drift.  Maybe not.  But it bears no relationship to when K-12 schools opened.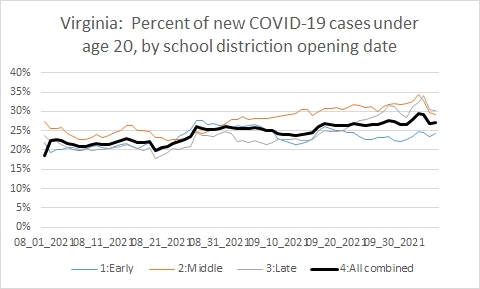 Source:  Analysis of data from Virginia Department of Health, and school calendars from Virginia Department of Education.  This embodies a crosswalk of school district to Virginia health district.