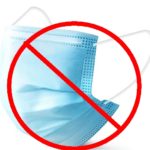 This might be a case of finding what I'm looking for.   But I seem to be seeing more mentions in minstream media regarding the need to wear N95 masks (respirators).  In particular, I see more people pointing to citizen use of N95s as a rational response to the new, more contagious British variant of COVID-19.
In mid-2020, a policy of reserving N95s for health care workers made sense.  But now that domestic production has increased several-fold, and even a hard-hit state like Minnesota has a half-year supply on hand for hospital use (see below), and we're facing a faster-spreading COVID variant, it's more than time to rethink that, and start getting N95s into the hands of the public.
Continue reading Post #955: More people saying "get a better mask".