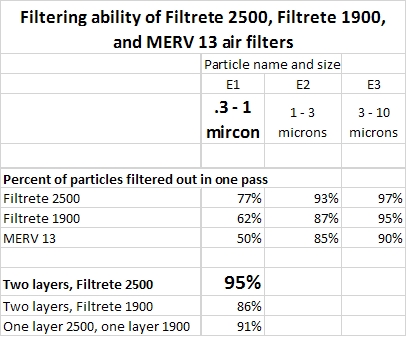 Source for base data: 3M, ASHRAE.  See Post #593 for writeup of these and other filtration standards.
I've done several posts about making masks out of Filtrete ™ home air-filter material.  Each time I return to that task, I find simpler ways to work with Filtrete ™.
In this post, I'm going to show just how easy it is to take a Filtrete ™ home air filter and make some simple, flat, easy-to-handle, fiber-free pieces for use inside cloth masks.  In a nutshell, extract the Filtrete ™ fabric from the air filter and hot-glue it between two layers of the thinnest synthetic fabric you can find.
Then end-user can then cut it to size, for use as a liner for a cloth mask.  That seems to work just fine, and nothing more labor-intensive is needed.  The materials run well under $0.25 per mask liner, depending on what size filter you buy, and how large you cut your mask liners.
A few tips and tricks for doing that are given below.  Of which, the only one that might not occur to you is to use kitchen "parchment paper" as a non-stick surface as you are gluing.
Continue reading Post #807: A vastly simpler mask liner using Filtrete ™