Update:  The Vienna Town Council has voted to approve the subdivision of the lot, so the Cabin on Cabin Road will be torn down and replaced by two houses. 
Original posting follows:

There's a short road on the east side of town known as Cabin Road.  Chances are you've never been down it, as all it does is connect Branch and Glyndon.  If you're just trying to get from A to B in the Town of Vienna, there is almost surely a better way to get there other than Cabin Road.
I stumbled across it years ago bicycling around town.  It was one of those oddities in Vienna, in that the road name actually made sense.  It did, in fact, have a cabin on it.  An actual, honest, recognizable log cabin.  Complete with, as I recall, what appeared to be cement chinking.  Clearly old.  Jarringly out-of-place.   Surrounded by modern suburban houses.  But there it was — the reason why this was Cabin Road.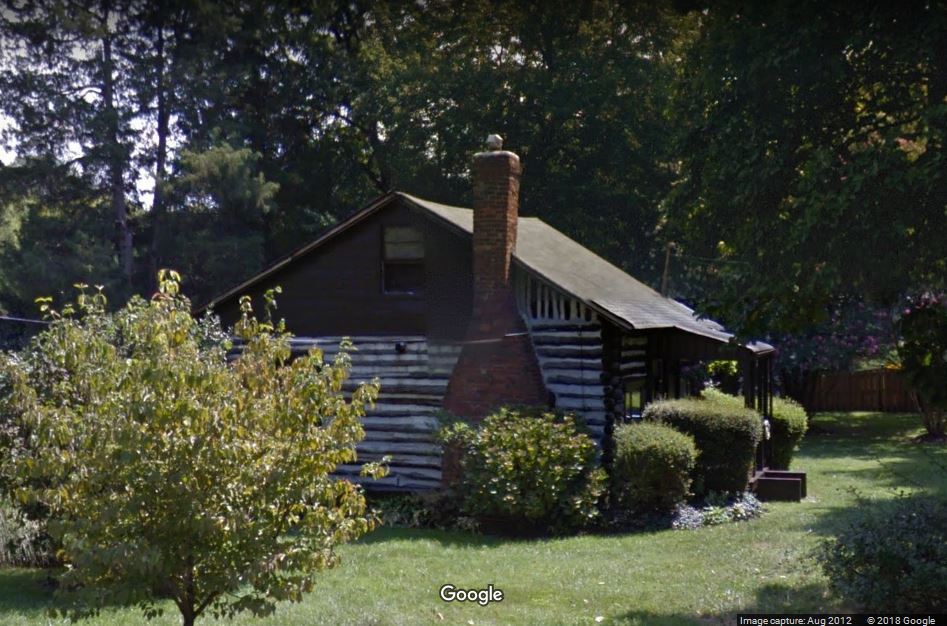 It was so odd, and so out of place, and so clearly a genuinely old cabin that you just wanted to know what the back-story was.   It's tough to see the details from this photo, but if you stop by it, you'll immediately see that it's the real deal.
The most recent owner of this cabin died last year, and now the estate is selling it.  The property is slated to become two houses on quarter-acre lots. 
So the tax base will go up, Town population will increase a bit, and this little oddity will pass into the dustbin of history.  It's just a little funky piece of Vienna that lasted only as long as its most recent owner did.  
---
Preservation efforts?
While this is not officially an historic building, there is some interest in preserving it.  The Town of Vienna Planning Commission thought it was worth saving.  But the Town would not/could not pause the approval process.  The developer is perfectly willing to have it preserved, as long as it doesn't slow him down.  You can read about that here.  Anyone with an interest in preserving this old cabin should probably contact Historic Vienna, Inc. 
In fact, if you look carefully at the corners, you can see that it's not really a "log cabin" at all, in the traditional sense.  Instead of fully-notched corners, so that the logs sit atop one another, there's only enough notching to keep the logs in place, resulting in a wide vertical space from one log to the next.  Essentially its an open log framework filled with (what appears to be) cement.  This is why the cement "chinking" is so prominent.  It isn't chinking at all (i.e., filling small gaps in a solid wood wall).  It's actually part of the wall structure, making up a bit less than half the vertical height of the wall.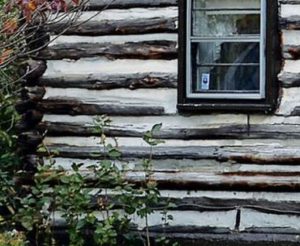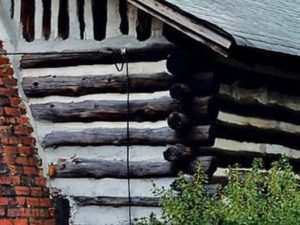 In any case, that hybrid wood/cement (or mortar) construction is probably impossible to tear apart and would be difficult, at best, to move in one piece.
So it's a bit of a wonder that this odd one-off building survived 80 years.  Probably, it only survived this long by grace of the long life of the last owner.  And now that she has passed on, it will as well.