This meeting is interesting for what will occur, and what will not occur, at the work session and meeting to be held on 8/19/2019.  Work session starts at 7 PM.  Meeting starts at 8 PM.  I am sure that the meetings are televised and webcast, but I am not 100% sure about the work session.  See Town Council & Planning Commission Video broadcasts for instructions on viewing.
What will

not

occur:
No discussion of extending the MAC moratorium.   Everybody I talk to seems to think this is a done deal.  But … time is short for getting that done (Post #323 , Post #325).
What will occur:
1:  They'll have another briefing on the "Joint Maple Avenue Corridor Multimodal Transportation and Land Use Study".  Meeting materials are located here, such as they are.  This won't even address MAC.  It's just a list of things that the consultant says the Town could do, on its own, right now, to deal with … multimodal stuff.
I continue to focus on this graph, whenever that comes up.  This keeps me from getting too excited about the effectiveness of multi-modal transportation for reducing Maple Avenue congestion.  (In practice, multi-modal means anything other than driving your car.)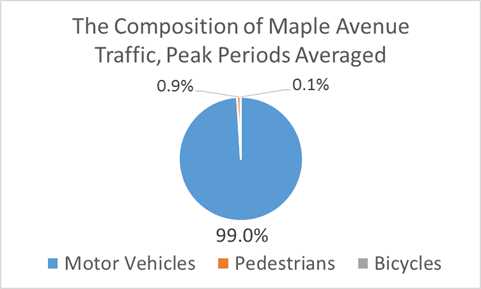 Given the January 1 2020 deadline for regulating rental electric scooters (Post #338), probably the most pressing "multi-modal" question is how to deal with that.  And, key within that, will it be legal to ride rental electric scooters on the Maple Avenue sidewalk?  Those scooters are the fastest-growing segment of urban multi-modal transport, the Town faces a hard deadline for regulating their use, and if they can't use the Maple Avenue sidewalk, they will likely play no significant role in reducing car traffic on Maple.
I have also continued to ride the bus (Post #225) to get from one end of Town to the other.  It's a nice way to get up and down Maple car-free.  But in addition, I'd consider myself a hypocrite if I were to talk about multimodal transit on Maple without actually having used some of it.  I don't expect most of the discussants will share that view.
2:  The Town will look at three scenarios for a parking at Patrick Henry library.   Meeting materials are here, again, for what they are worth.  Take thirty seconds, and you can probably guess the three scenarios.  (Hint:  Goldilocks.) So:   No garage, small garage, big garage.
3: The Town will look at taking back the four feet of roadway that they gave to the developer of the 380 Maple West MAC project.  I think. If you can make head or tail out of the Town's writeup of this, you're smarter than I am.  Meeting materials are here.  As expected, it appears that the developer is doing his best to make it unattractive to the Town for them to take back that part of the roadway.
4: The Town Council will direct staff to determine how to change the current commercial zoning so that all new commercial development looks like the MAC streetscape.  Or something like that.  Meeting materials are here.  This is Councilman Majdi's suggestion, from a prior Town Council meeting.