This post is a courtesy for the Vienna Transportation Safety Commission (TSC).
The first point is to provide a convenient reference to Post #424, which is my summary of the Chick-fil-A drive-through exit hazard.  In a nutshell, I think that the obstructed view of the sidewalk there constitutes a clear hazard to pedestrians and bicyclists, on what is now a walk-to-school route thanks to the Madison HAWK light.
At tonight's (11/25/2019) TSC meeting, I'm going to ask the Town to do something about that.
My second point is that there does not seem to be any technical guidance on this issue whatsoever, from either the Virginia Department of Transportation or from Federal sources.  The issue being, specifically, when a driveway meets a sidewalk next to a public road, what constitutes adequate sight lines between drivers in the driveway, and pedestrians on the sidewalk.   (So, not an issue of driver-to-driver sight lines, but driver-to-sidewalk-pedestrian sight lines.)
Best I've seen, so far, from VDOT or federal sources, is a vague statement that one should have adequate sight lines.  And that's in the context of roadway intersections, not driveways entering a roadway.
After considerable searching, I found a handful of municipalities that addressed this exact issue.  Near as I can tell, all of them ask for the area to be kept clear of visual obstructions 10 feet or more back from the sidewalk, when a driveway enters a roadway.  This should be contrasted with the 1-foot distances between the sidewalk and the obstruction (a 5′ tall transformer box) at the Chick-fil-A drive-through exit. 

So, if you were looking for solid evidence that the situation at the Chick-fil-A drive-through exit is hazardous, here are four cities that would have banned it.  These are all standards for vehicle-pedestrian sight lines.
Lincoln, NE (.pdf) says you can have no obstructions with 10 feet of the sidewalk where a driveway enters a street.  Like so:

City of Kirkland, WA requires a 22′ setback, as measured along the sidewalk, but they assume that cars will be moving 10 MPH down a driveway.  Not sure this is relevant.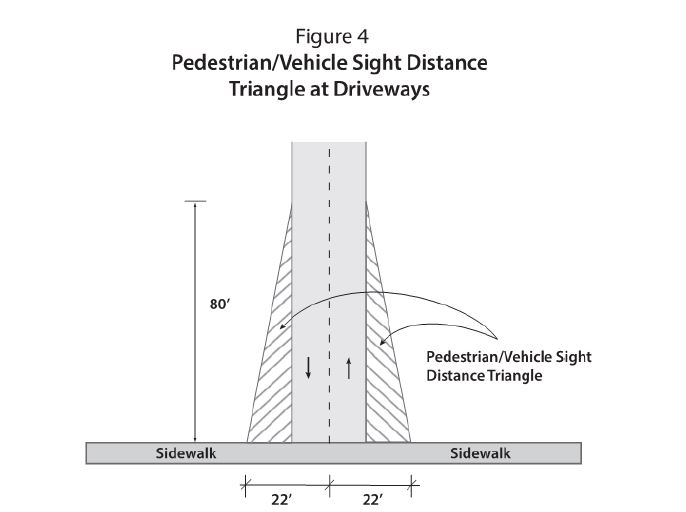 Bellevue, WA says 14′ from the back edge of the sidewalk must be kept clear, but that's measured in the middle of the travel lane.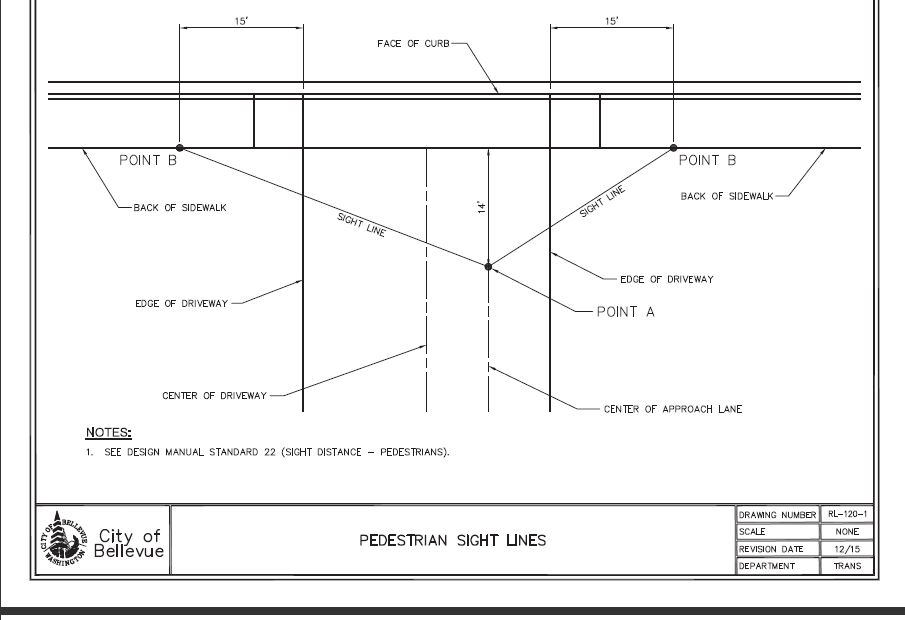 City of Albuquerque requires 11′ be kept clear around residential driveways.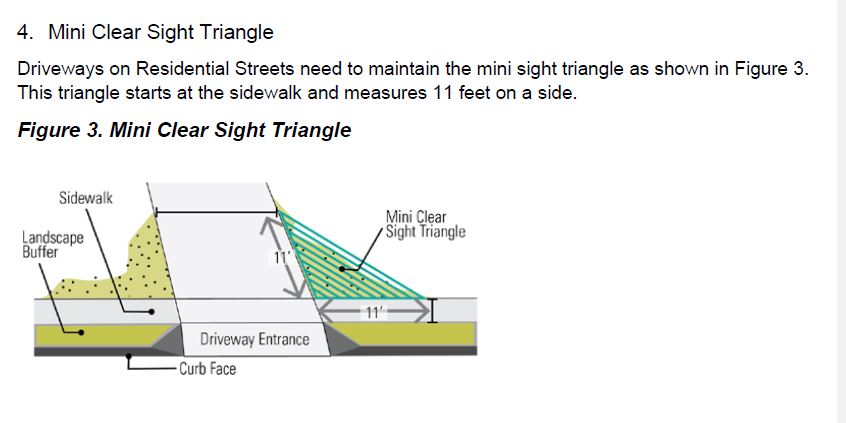 I think this is enough to show that where this issue of pedestrian visibility at driveways is explicitly addressed, the required setbacks from the sidewalk that must be clear of visual obstruction vastly exceed what we have at the Chick-fil-A drive through exit.