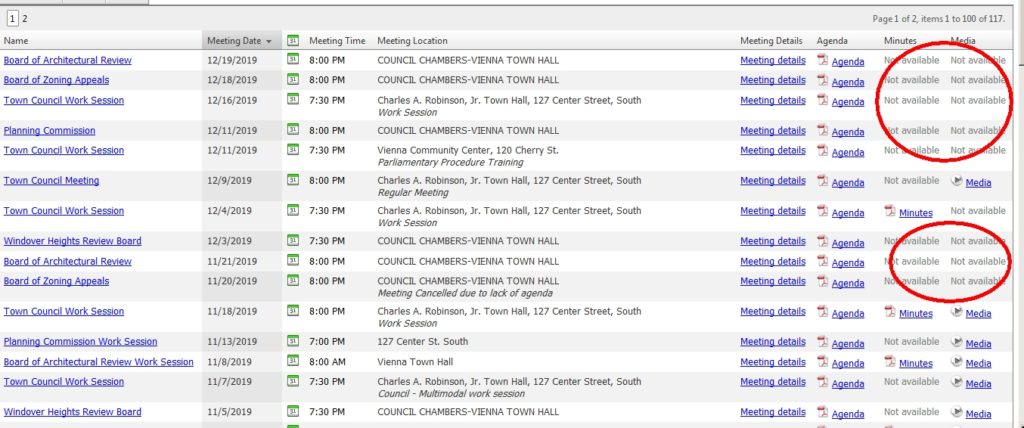 The materials for this meeting are on this Town of Vienna web page.
I had intended to record this meeting, but I goofed, and so I have no audio recording.   This writeup is based entirely on about a dozen pages of sketchy notes.
For a brief shining moment, last year, I used to be able to say, no problem, the Town will post its recording of the meeting.  But they've just quietly stopped doing that.  In hindsight, looks like that started at the end of November, per the graphics above.  I noticed it in early December, (see Post #501, Hebrews 13:8), and tried to make light of it.
But ultimately, it's not funny.  Well, it's kind of funny, in a hypocritical way, for a Town Council that blathers about how deeply and sincerely they want "transparency" in Town government.  In any case, with regard to timely access to the content of these meetings, we're right back where we were a year ago.  If one of the the peasantry citizens wants to know what the Town government is up to, he or she must attend these meetings in person.  Or have somebody record it for them.  As I intended, but failed, to do in this case.
And so, as we start the new year, we're back to where we were a year or two ago, with respect to public access to the Town's recordings of these meetings.
And, despite an election, and turnover of some Town Council seats, in a nutshell, that's pretty much my take on this entire work session.  Nothing has changed.
Some detail follows.
---
Town actions from the Multimodal study.
The first part of the meeting dealt with action items from the Town's Maple Avenue Multimodal study.  At one point, one member of Town Council described these items as "window dressing".  I think that was in the context of Maple Avenue traffic congestion.  And that comment pretty much summarizes it for me.
So, they're going to make the W&OD road crossings uniform, and muck about with the intersection of Church and Mill, and so on.  If you want to know the details, look at the meeting materials here.
It appeared that there was no apparent effort to do any type of cost-effectiveness analysis.  So this appeared to be a some collection of targets of opportunity and pet projects.
Not that anybody is listening, but I'll give an example.  If you search the contractor's appendix, looking for accidents with pedestrians, you'll find none at the corner of Church and Mill.  If you search the Commonwealth's TREDS, for the past five years, ditto.   By my recollection, it's rare even to see a pedestrian there when the road is busy.  Near as I can tell, the Town does not even have a count of pedestrian volume for that intersection (as it does for others, as part of its 2015 traffic light timing study).  They don't know if, in a typical rush hour, one person crosses that on foot or 100 people do.
And so … closing off the right-turn-lane, and reconfiguring the intersection of Church and Mill is a Town of Vienna pedestrian safety priority.  Perhaps there's some long-standing history of accidents there that does not appear in any current set of accident reports?  Otherwise, it beats me why that's somehow a priority, from the standpoint of pedestrian safety.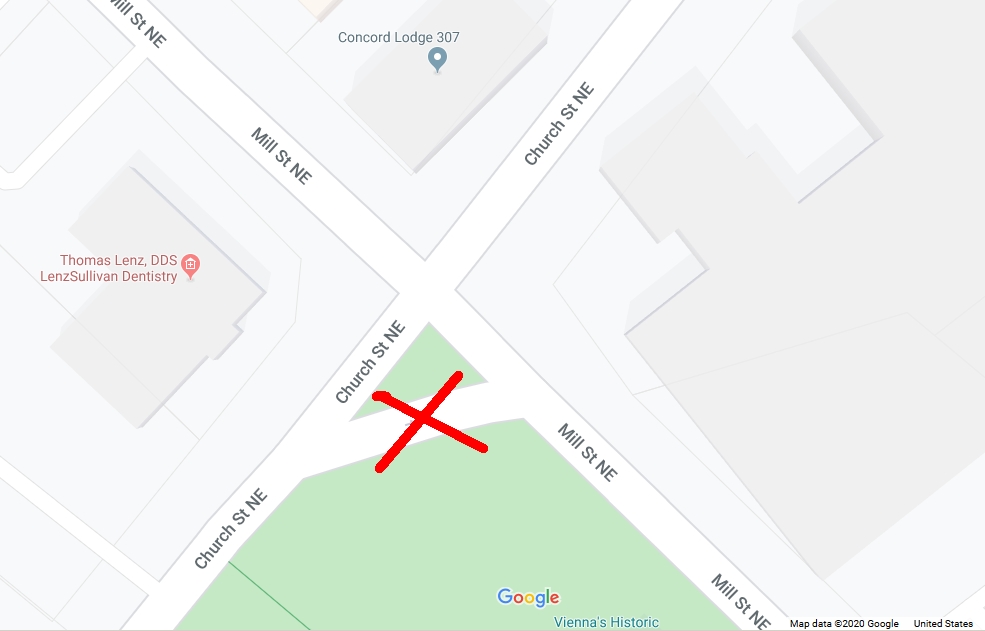 Don't know that there's much else to talk about.
The Town is thinking of spending $400K/year (hopefully, of somebody else's money) on a trolley for Maple and Church.  I'm not even going to bother to try to grasp the cost-benefit analysis there, but I will take a minute to correct errors of fact in that discussion.  Fairfax County took over almost all local bus transit from  Metrobus, starting in 1985.  (So the lack of a Metrobus route down Maple should not be a surprise to anyone.)   The Fairfax Connector 463 (Maple Avenue) service is not rush-hour only, but in fact runs every half hour M-F from about 5 AM to about midnight.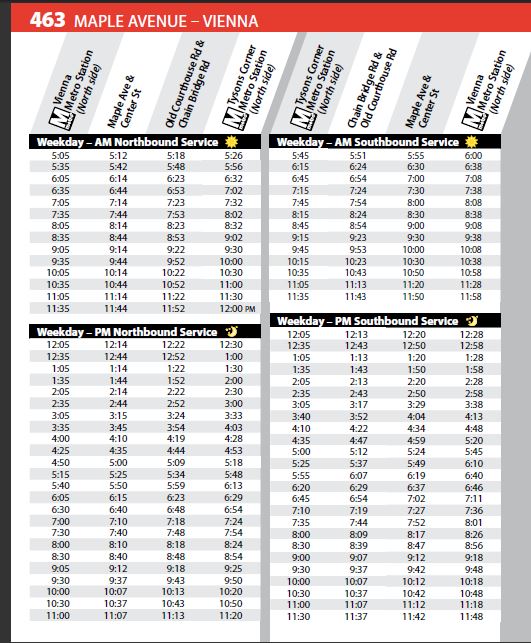 That said, I was probably the only person in the room who has ever ridden that bus (Post #225).  I guess the lack of understanding about the existing Maple Avenue bus service is understandable, because I don't think anybody there actually gave a crap one way or the other, whether or not the description of current bus service was accurate.  If the Town wants a Trolley, then the Town wants a Trolley.  Besides, Vienna is too bougie for a bus (Post #416).
As a coda, I should note that Connector service is a lifeline for people with disabilities, who (in my limited experience) are significantly over-represented among ridership.  Pretty sure the Town isn't even thinking about ADA access issues for the proposed Town Trolley.
And I guess I need to say that the Town is going to fund a study of the need for parking — in 2023, after they've funded two additional parking garages.  So, we're back to that ready, fire, aim approach that appears to be a tradition in Town of Vienna planning.
Read the meeting materials if you want to know more.
---
Scope of work for rewriting the entire Vienna zoning code
Bottom line here is that I really don't have the heart to write this up.  Suffice it to say that the Town Council spent spent a couple of hours, mostly wordsmithing the minutiae of the Staff-written Scope of Work document.
Town Council's comments on that document were developed in private, via a Noah's Ark (Post #480) meeting.  And, oddly, while it's illegal for the Town to vote on anything in private — and so, clearly illegal to vote on anything in a Noah's Ark meeting — nevertheless the discussion clearly separated out the comments that had four or more positive votes from Town Council members, from those that had three or fewer.
So that was a learning experience.  They can't vote in private, by law.  But … approving comments with four or more in agreement was not the same as voting.  Got it.
So they spent their time buried in the details like good little boys and girls, doing exactly and only what Town Staff directed them to do.  Anyone who was naughty, and tried to raise bigger issues (Majdi), was firmly quashed.  Any notion that (e.g.) you might moderate the pace of development if it might increase traffic congestion was firmly excluded.  Any notion that Town Council would get to see the issues early on, and so direct the course of this from the outset, was firmly put down.  Any notion that you might separate out the non-controversial "clean up" portion of the task from the controversial policy changes, and so have separate votes on those pieces, was absolutely rejected.  The idea that we shouldn't repeat the mistakes of the MAC zoning development was immediately swept aside.  And any notion that Town Council should lead this process, by expressing a clear description of what they desire for the Town of Vienna, faded as fast as a fart on a windy day.
So, God bless Councilman Majdi for giving it a try.  But he was the lone voice of dissent on … yeah, pretty much all of that.
Bottom line, as far as I can tell, is that Town Staff — meaning the Department of Planning — will now proceed to lead Town Council by the nose through this process.  They'll present Town Council with finished pieces of the new zoning  ("modules"), and … I don't know, maybe allow them to do some more wordsmithing.  Then … just guessing here … force them to vote on the whole thing, up or down.
So, for me, this meeting just validated what I believed to be true in Post #487 and Post #495.
And if you don't believe my description, listen to it for yourself.  Oh, sorry, I guess you can't.  The Town has a recording of the meeting, to aid Town staff in constructing the minutes for the meeting.  But you're not going to get to hear that.