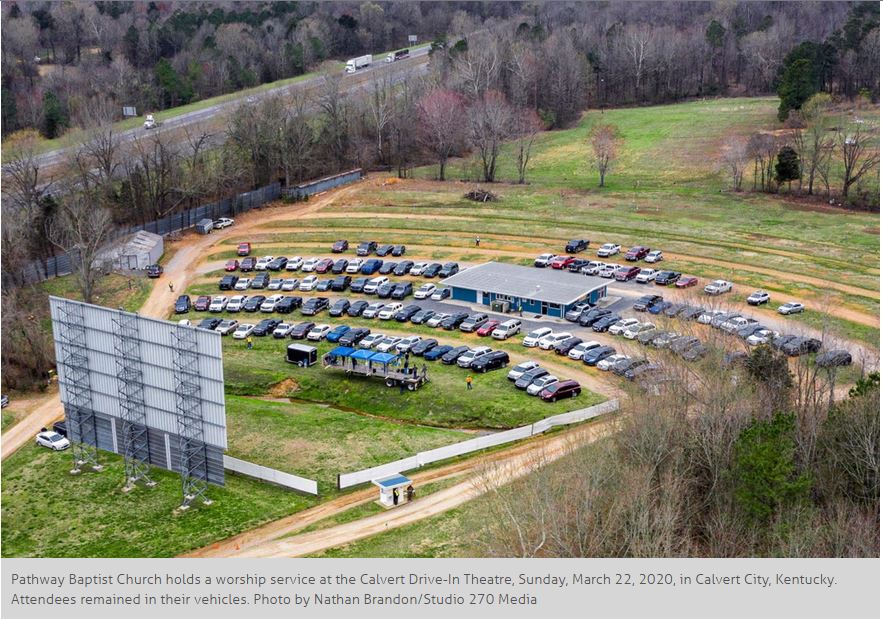 Source:  Religion News Service.
Just thought I would bring this to your attention.  Not only have the Germans figured out that singing in church is dangerous (and so is banned for now), so have the Koreans.  Or, at least, some of them.  This, from the New York Times:
"Worshipers at one of Seoul's largest Catholic churches must refrain from singing hymns or saying "amen" for fear of spreading saliva. "
Interestingly, both countries had their own version of our superspreader event, a Mount Vernon, Washington choir practice were 45 of 60 in attendance fell ill with COVID-19.  Germany had roughly three-quarters of a large church choir fall ill, from which they took a clear lesson.
And in Korea, one large outbreak was traced back to a single sick parishioner at one tightly-run cult-like church.  She infected nearly 40 other church attendees, who went on to infect hundreds, plausibly thousands, total, before that particular outbreak was stopped.  Separately, and despite this, Korea had to take legal action against several Protestant churches for defying their ban on public gatherings.
Turns out, pretty much every country, and almost every state, has had its own version of a church-based super-spreader event, or at least large clusters of cases related to church attendance.
Here's a similar experience in France, where, once again, apparently one ill worshiper at a large Gospel church gathering set off a chain of infections that, ultimately, led to 2500 people being infected with coronavirus.  This one cluster was the principal reason that Germany closed its border with France.
Here's a church in California that managed to start a 70-case cluster, despite the church being shut down.  Seems that parishioners got the bright idea of meeting in large, crowded groups in each others homes.  Here's a different writeup of the same event.  As of a month ago, one-third of all cases in Sacremento County, CA, were tied to church attendance.
At least one Canadian province has gotten the message, and has banned singing in church.  In this case, in live-streamed church gatherings that are already limited to 15 or fewer people.  And, almost predictably, the churches plan to sue over it.  The Alberta, CA ordinance was modeled after a similar ordinance in Mendocino County, CA.
Kansas reports three separate clusters of cases related to church attendance.  This was back before Easter.  And, predictably enough, the Kansas legislature then exempted churches from bans on public gathering.
Here's a cluster of cases from a Kentucky church revival meeting.  Here's a writeup of that church's response.
Here's an Arkansas church that continues to hold services despite the fact that a nearby church was itself the center of a large cluster of cases.  Which reminds me of my "Darwin Test", Post #633.
California is, as usual, leading with way to a solution — with drive-in church service.  Apparently many states are following suit.  Hence the picture and article reference at the top of the page.  Seriously, just Google images for "drive-in church" and you'll see this is now all the rage.
But the question remains:  Even if some people can be smart enough to modify their behavior — no singing, say; or live-streamed services; or drive-in church — will there be enough dummies out there to make church service a continues source of clusters of infections?   Even though we now have many, many examples, internationally and across the US states, of this sort of event.
I guess, as states re-open, we're going to find out, one way or the other.
My daughter asked about drive-in theaters the other day.  I'm old enough to remember two that used to run in this area. Or at least think I do.  There was a drive-on on, of all places, Route 1 near Mount Vernon.  That was still in existence, as I recall it, about 35 years ago.  And seem to recall one on Route 28, just south of Manassas.  That is, of course, long gone.  In all of Virginia, there are only a handful left, and most of those appear to be run as not-for-profit nostalgia venues, rather than as commercial enterprises