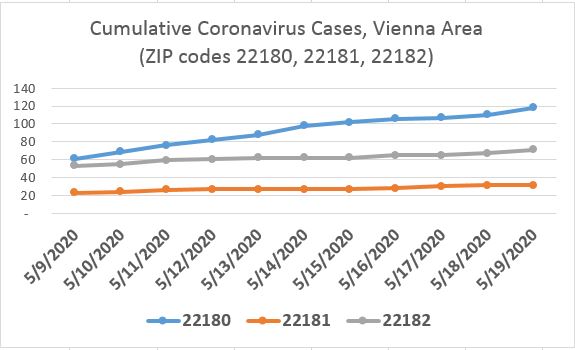 I now have enough ZIP-level data from the Virginia Department of Health to say that the doubling time for coronavirus cases in Vienna (ZIP 22180) is about ten days.  That's how long it took to go from the roughly 60 cases on 5/9/2020 to the roughly 120 cases on 5/19/2020.
Coincidentally, we're now ten days from the planned start of the re-opening of Northern Virginia businesses.  At present, that's scheduled for May 29, and from what I hear, many local business and other organizations are counting on that.  So, like the rest of re-opening, that's likely to happen, regardless.
But this provides a convenient marker.  Let's see whether or not cases in this ZIP have doubled by the re-opening date.
Currently, about 0.5% of all residents of 22180 have been diagnosed with coronavirus.  Because children are rarely tested or reported with COVID-19, it might be smarter to say that about 0.65% of adults have been diagnosed with it.
This ongoing growth in cases does not appear to be an artifact of greater testing.  The Commonwealth revised its data on 5/18/2020 to remove a small number of "antibody" tests — the kind that will show, some weeks after the fact, that a person was infected and has recovered.  That said, with the revised numbers, a cumulative total of 21% of persons tested in Vienna were positive for coronavirus.  Today's results show 13 persons tested, and 8 new infections. 
The result is that we're almost certainly going to have a limited re-opening of businesses and other facilities while the virus is actively in circulation in the population.  In the Town of Vienna, and elsewhere in Northern Virginia.
---
Plan accordingly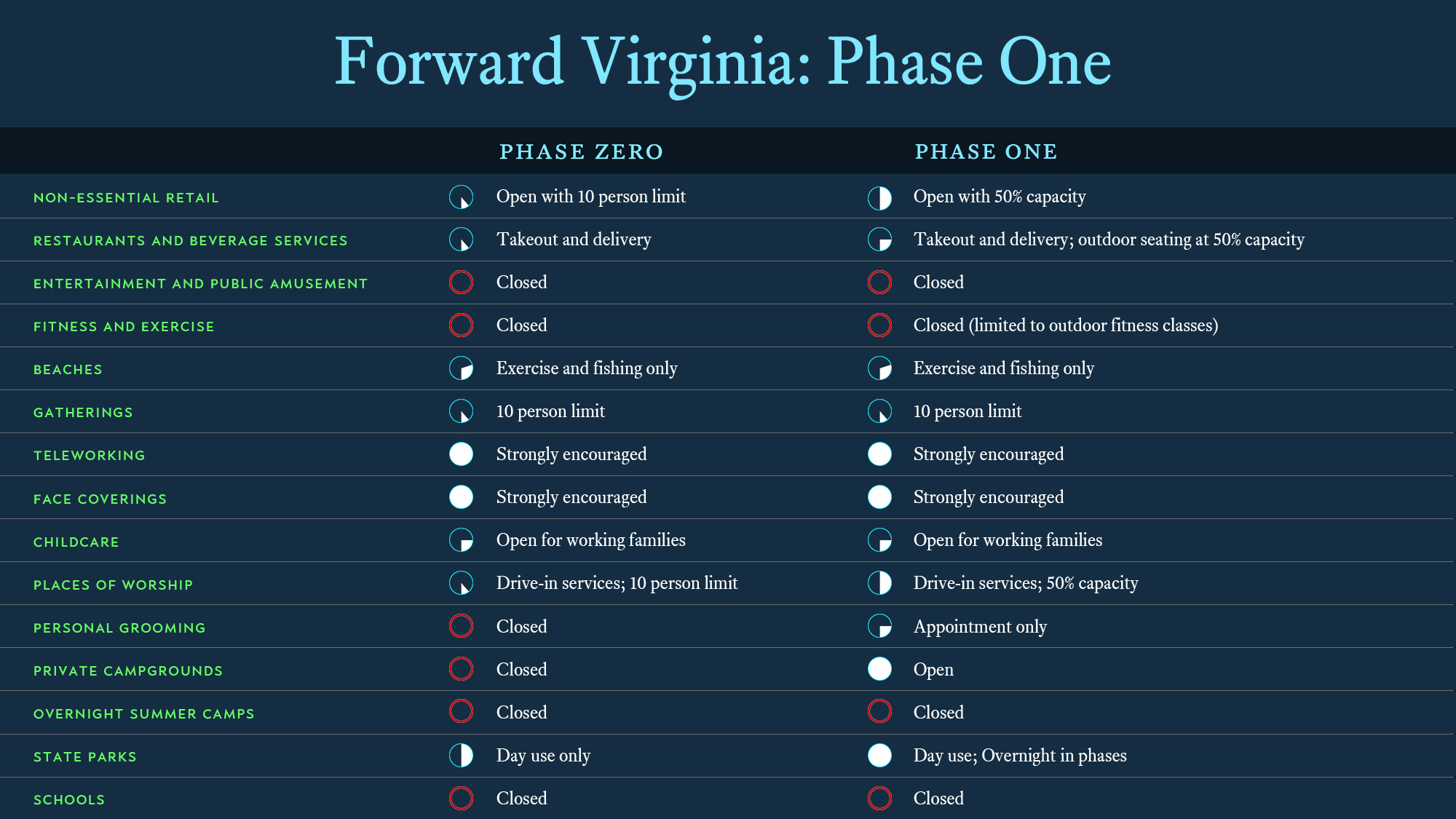 Loudoun County government put together this excellent table, above, summarizing how the first phase of re-opening (Phase 1) corresponds to the shutdown (Phase 0).  The also have links to detailed information for each type of business or entity that may re-open.
I don't think that re-opening of Northern Virginia is going to make things materially worse, in terms of spread of the virus.  I say that for two reason.  First, on average, that has not happened elsewhere.  See Post #694 for my statistical analysis.
Second, it's hard to over-emphasize how rational, slow, and cautious this re-opening is.  (Similar to re-openings across the state).  If you look at the table above, you find that:
Non-essential retail can have more customers.
Restaurants can open for sit-down dining, but only for outdoor dining.
You can get your hair cut/styled (and similar personal services), but only by appointment.
Churches can have larger drive-in services.
Some campgrounds and parks will open
What got me thinking of this is a notice I got from Vienna Aquatic Club (where my family has been members for a couple of decades).  Sure, they're going to re-open on the 29th, as an outdoor fitness facility.  They'll be open for lap swimming only, by appointment only, in one-hour blocks, with strict rules about entering and exiting the water to avoid crossing other people's lanes.  So while the pool will in fact be open, it'll be nothing like a typical summer pool experience.
That's all in addition to what's always remained open, which, when you do the math, accounts for the vast majority of the non-automobile retail dollar in the US anyway.  (Walmart/Target, grocery stores, drug stores, hardware stores, lawn and garden stores, gas stations, and so on.)
The fact is, we didn't shut down the way (e.g.) Wuhan, China shut down.  We kind-of, sort-of shut down.  And now we're kind-of, sort-of slowly re-opening those facilities that were restricted.   Which is the second reason I don't expect this to have much of an impact.  Because, at first blush, it's not really that big of a change from what we have now.
That said, just as businesses and other organizations clearly are planning for that date, maybe we citizens ought to be as well.  For my part, I'm probably not going to change my routine much.  But I'm in a fairly high-risk group.
The fact of re-opening won't mean that the problem has gone away.  The virus remains in circulation in our community, and in Northern Virginia more broadly.   But on the other hand, it also isn't likely to mean that the pandemic is going to get much worse, either. 
It just means slightly more opportunities, and a continued need for caution.  Best to start thinking, now, about those opportunities.  And if you're in an enclosed space outside the home, wear the best mask you can get your hands on.  And keep doing all the rest that the CDC recommends.