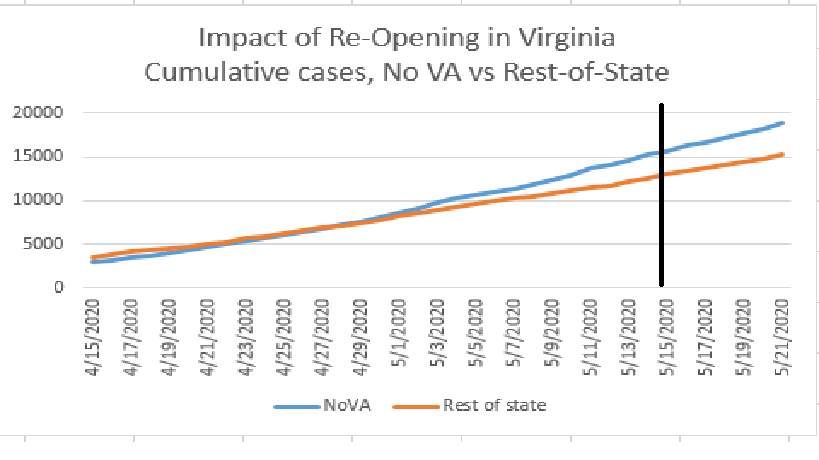 Source:  Analysis of coronavirus case counts from the Virginia Department of Health.  Northern Virginia is defined as Arlington, Alexandria, Fairfax, Loudoun, and Prince William Counties and all Independent Cities within (Fairfax, Falls Church, Manassas, Manassas Park.)
Zip, so far.  No upward kink in that red line.  The Commonwealth outside of Northern Virginia began re-opening on 5/15/2020.  No VA will start two weeks later, on 5/29/2020.  That two week difference provides a "natural experiment" for detecting any large uptick in cases resulting from re-opening.
Given all the lags (between time of infection and onset of symptoms, between onset of symptoms and report of testing), we should not see any impact yet. 
And, sure enough, we don't see anything yet.  Which is a good thing — it's a test of this simple method.  We don't see results where we shouldn't.
Given how modest the first phase of "re-opening" is, I doubt we'll see any at all  (Post #696).  I'll redo this a couple of times over the next two weeks to see if anything shows up.
Addendum:  It's actually No VA, City of Richmond, and Accomack County that have not re-opened yet.  Here's the correct set of trends, where NoVA plus is NoVA plus those two other areas.  Different graph, same story.