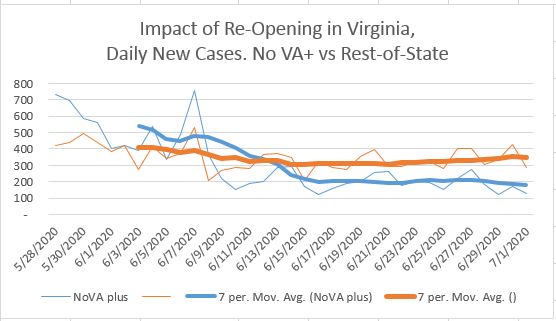 In the prior post, I noted that Virginia daily new cases were beginning to rise outside of the NoVA/Richmond/Accomack County area.  That's the orange line above.  In fact, if not for declines in a Richmond suburban county (Chesterfield County), the increases for the orange line (everything outside of NoVA+) would be substantially higher.
I then started to drill down into the data, and soon realized that this is almost entirely due to a modest uptick in the Hampton Roads area.  (Plus a handful of other places that I think are due to unique circumstances).
The top six localities contributing to the uptick, five (in order) were:
Chesapeake, VA
Portsmouth, VA
Virginia Beach, VA
Norfolk, VA
Hampton, VA
(The sixth was Botetourt County, which has a unique and unrelated set of problems.)
And the cause of this?  I found this news reporting, saying (emphasis mine):
The increases in Hampton Roads coincide with large increases in the number of people under the age of 30 contracting the virus, with some localities nearly doubling their percent of cases under 30 in June compared to before June, the Virginia Public Access Project reported Tuesday. 
As discussed in an earlier post, individuals under 30 are the primary drivers of the current outbreaks in Florida, Texas, and Arizona.  So this appears to be our own little piece of that, in much milder form.
It's not clear that this can or cannot be blamed on bars.  At present, bars are open for indoor service at half-capacity.  At least, that's the theory.  Possibly, with other restrictions.  Anyway, barring any other evidence, it suggests that socializing by young adults is the likely cause for the uptick in the Virginia numbers outside of NoVA+.