We're now nine days into Phase III re-opening in Virginia.  I doubt that most of you would have noticed that Phase III had started, if not for the fact that the Governor announced it.  It certainly brought no sweeping new changes to my life.
We're now at the point where any uptick in cases from Phase III re-opening should begin to appear in the data.  (Typically, there's 4 to 5 days between infection and symptom onset, and then another 4 to 6 for going to the doctor, getting tested, and having the test results reported.)  If Phase III results in a wave of new cases, the earliest part of that wave should be appearing now.
So far, there's nothing to report.  The seven-day moving average of daily new cases in Virginia drifted above 600 per day.  But that's been rising for weeks now, due entirely to the "early-reopening" portion of the state.  Fairfax County's cases remain fairly low.  And there's not much else to say.
Here are my usual graphs, updated to today (7/9/2020).  The underlying data source is case counts from the Virginia Department of Health.

Above, blue = Virginia, orange = Fairfax County.
Below:  Blue = NoVA + Richmond + Accomack County, Orange = rest of state.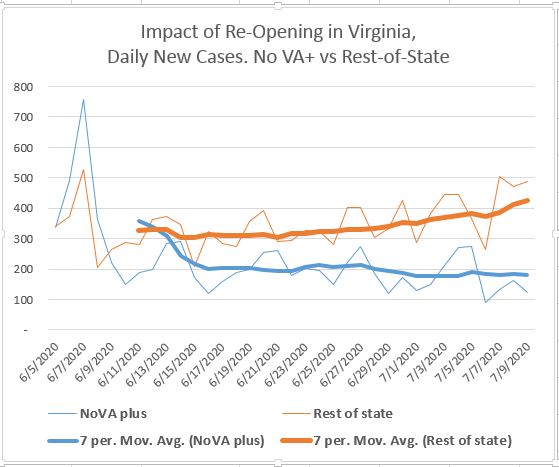 The cumulative case count for Vienna is back down to 229.  The drop is probably due to cases that were thought to be COVID-19 based on symptoms and proximity to an infected individual, but turned out not to be, upon testing.