This post updates my standard charts to today, 8/3/2020.  There was another apparent "spike" in the case count today, but it has all the earmarks of being driven by a backlog in data reporting, not in any real uptick.  Note that the lines on the second chart move perfectly in synch.  The only thing these two areas have in common is the data reporting system.
The data source for these charts is the Commonwealth of Virginia's case counts, via the Department of Health.
Below:  Recent trend, blue = Virginia, Orange = Fairfax County.  It's a pretty good bet that today's high count in Fairfax is a result of data reporting backlog, not a surge in new cases.  We continue to trend along at 1000 cases/day for the Commonwealth, 60/day for Fairfax County.

Below:  Late-reopening areas (Blue, NoV + Richmond + Accomack), versus early-reopening areas (orange).  At the outset of the pandemic, the "late reopening" areas had most of the cases.  That's why they re-opened later.  But that changed somewhere around the third week of July.  Due to the higher daily case growth shown below, cumulative total cases in the "early reopening" areas exceed that of the "late reopening" areas.
As note elsewhere on this website, the high growth in the early-reopening areas is largely due to the Hampton Roads area (Portsmouth, Norfolk, Virginia Beach, and adjacent cities and counties).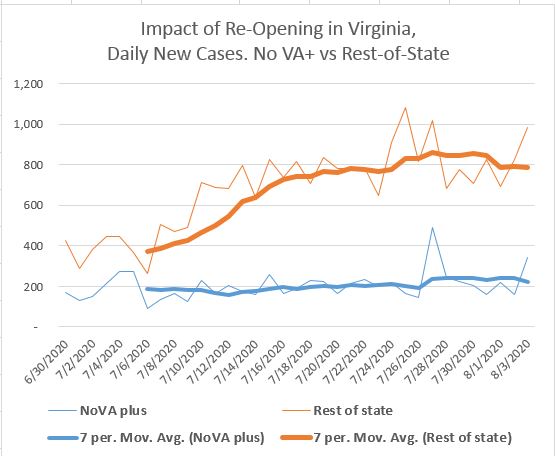 Town of Vienna (ZIP 22180) continues to see roughly one new case per day.  The ZIP code has about 24,000 residents.  This past week we passed two milestones (not shown).  More than 10% of the residents of 22180 had been tested for coronavirus, and more than 1% have had coronavirus.