Yesterday Virginia reported 2000+ new COVID-19 cases, but that high one-day count was due to the Commonwealth clearing up a backlog of previously uncounted cases.  That said, a) those cases were real (just not all occurring yesterday), and today (8/8/2020) saw another 1300 cases.
The first part of this post shows my three standard graphs of new case counts.  The second part is a little data drill-down exercise, to see if this latest further uptick in daily new cases matches the prior increase that occurred about a month ago. 
Last time I looked in detail (Post #758), , the uptick in Virginia was due almost entirely to the Hampton Roads area (Portsmouth/Norfolk/Virginia Beach and adjacent counties).  And it was unusually concentrated among younger individuals.  Based on this most recent round of cases, my analysis suggests that nothing has changed, and that the description of the prior uptick is pretty much the same as the description of this uptick.
Since that time, one more detail has come out about an oddity in the data.  One isolated hotspot for new cases was Farmville, VA.  Turns out, there's some sort of INS/DHS detention center there, and COVID-19 has been running rampant in that facility.
---
Three graphs
Below:  Virginia (blue) and Fairfax County (orange), daily new COVID-19 cases as reported, and seven-day moving average. The current rate of new cases per day is about twice what it was a month ago.  Recall that just over a month ago (e.g., Post #738), that moving average was well below 600 cases/day for Virginia, and 40 for Fairfax County. 


Below:  Late re-opening areas (NoVA+Richmond City+Accomack) blue, versus rest-of-state (orange).  As was the case with the first change in case counts (from about 500/day to about 1000/day), this is almost entirely due to grow in new cases in the "rest of state" areas.  I.e., it's mostly not being driven by NoVA and Richmond.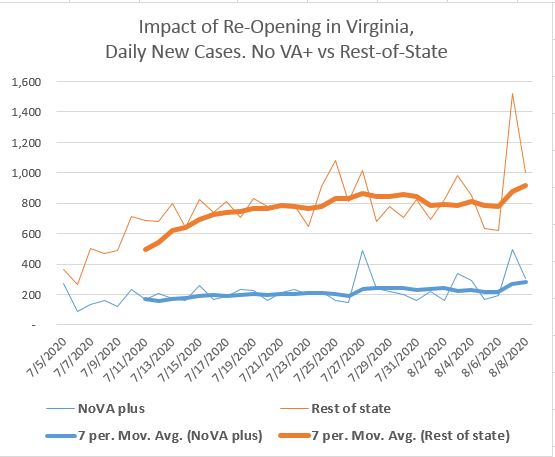 Below:  Vienna ZIP codes.  I noted earlier that we recently passed two milestones:  10% of ZIP 22180 residents had been tested, and 1% had been infected.  We continue to add roughly one case per day in 22180.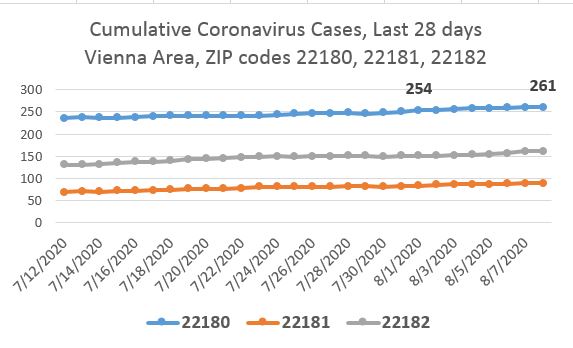 ---
Drill-down.
No news here.  The same Hampton Roads areas that were responsible for the last uptick (about a month back) are responsible for this latest increases as well.
I'm trying to identify where the daily case counts "popped up" these last two days, compare to the prior daily rate.  The entire analysis starts on 8/1/2020, and compares the increase from 8/1/2020 to 8/6/2020, to the increase from 8/6/2020 to 8/8/2020.
When I sort cities and counties by their contribution to the uptick of the past two days, there are few surprises.
One surprise is that case growth in Prince William County exceeded that in Fairfax County for the past two days.  That's the first time I've observed that, but it's not like I check this every day.  It's just an oddity.
Second, the usual list of cities and counties shows up in the Hampton Roads area:  Virginia Beach, Norfolk, Portsmouth, Chesapeake, and so on.  The upshot is that latest increase in cases is coming from the same Hampton Roads area as the last uptick that started last month.
There's one outlier:  Mecklenburg County shows up near the top of the list, for new cases in the past two days.  That's on the Carolina border, and there's not a lot there.  That county only has about 30,000 residents, but they picked up 80 new cases in the past two days.  (By contrast, ZIP 22180 has about half that population, and averaged 2 new cases over that period).
No telling what that is, exactly.  It almost certainly has to be "an outbreak" of some kind — meat packing plant, prison, and so forth.  But I wasn't able to track it down to determine what, exactly, is causing such a high rate of new cases in that rural county.
ADDENDUM:  My wife tracked this down.  Apparently this outbreak centers around Baskerville Correctional Center.  This Virginia state prison houses around 500 inmates, and so an outbreak there (and then to staff and families of staff, service workers, and so on) could plausibly account for the very high new case counts.
And so the two anomalies in the last two drill-down exercises were both rural counties with prisons or detention facilities of some sort.  Farmville has some sort of obscure Federal facility, and Mecklenburg County has a state prison.