Florida's data reporting puts a blip into yesterday's case counts.  Abstracting from that, the U.S. Delta wave appears to remains on course for a broad peak in early September.
The U.S. stands at 43.2 new cases / 100K / day, and week-upon-week growth is below 18%.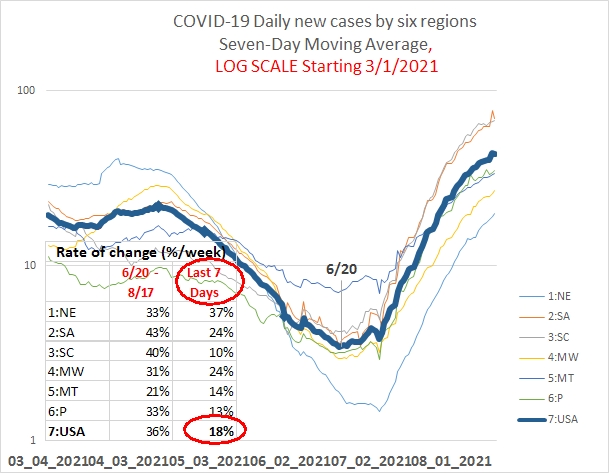 Data source for this and other graphs of new case counts:  Calculated from The New York Times. (2021). Coronavirus (Covid-19) Data in the United States. Retrieved 8/18/2021, from https://github.com/nytimes/covid-19-data."  The NY Times U.S. tracking page may be found at https://www.nytimes.com/interactive/2020/us/coronavirus-us-cases.html.
Growth rate continues a modest downward trend.  The peak occurs when these lines finally reach zero.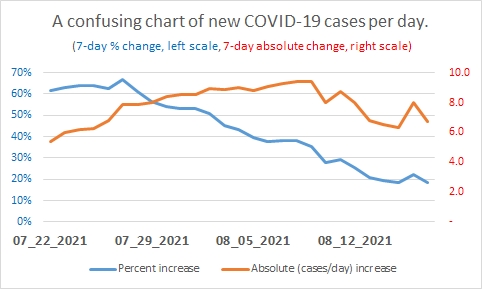 Florida regains the #1 spot with 121 new cases / 100K / day, followed closely by Mississippi (113) and Louisiana (108).
In terms of growth rates, just three states saw new case counts decline over the past seven days.  Those were Nevada, Missouri, and Louisiana.  This is consistent with finding that the states that started the wave early, or have very high case rates, now appear to be peaking.
---
South Dakota Deja Vu
South Dakota is current showing an extremely rapid growth in new COVID-19 cases.  In terms of data as-reported, new cases per day increased more-than-four-fold in the past week.  One week ago, they had the lowest new-case rate in the nation at just over 6 / 100K / day.  Today they are showing 29 / 100K / day.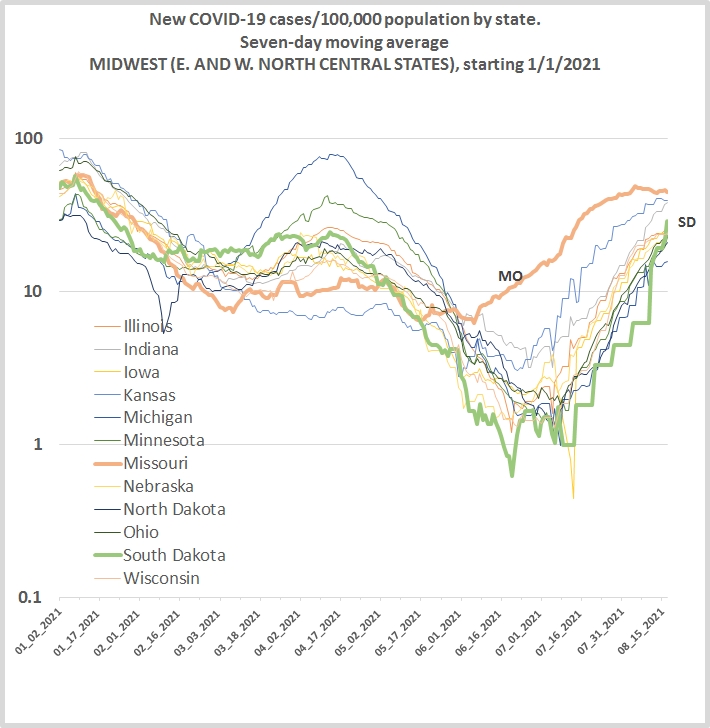 The Sturgis motorcycle rally was held August 6 to August 15.  Arguably, that attracted something like a half-million visitors.  Prior to this past week, SD case counts had been ramping up at more-or-less the same rate as other upper Midwest states.
That said, it looks like the increase in case counts is widespread across South Dakota, and is not limited to Meade County (where Sturgis is located), circled below.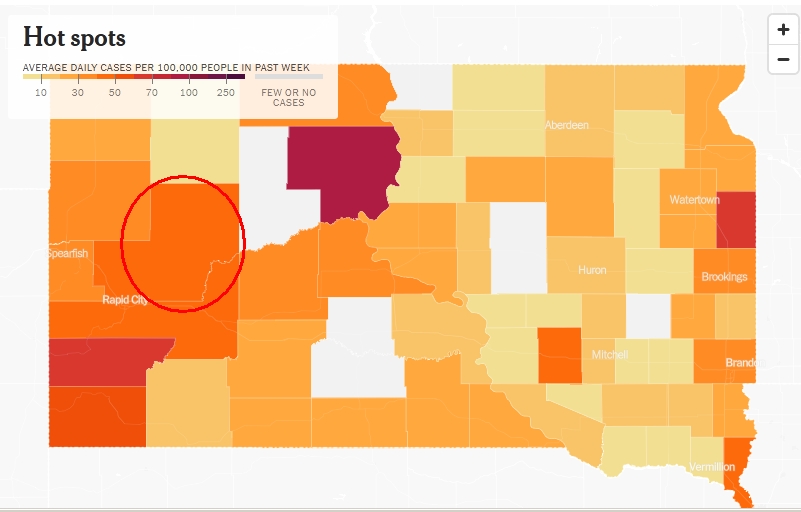 Source:  New York Times.
Last year, a study from San Diego State University suggested that the Sturgis festival was a huge superspreader event, based on the statistical association between upticks in COVID-19 case counts and the counties to which Sturgis attendees returned.   (That allegation that was strongly contested by the Governor of South Dakota, but it's not as if she's one to let facts get in the way of making an argument — see Post #888.)  That paper received some criticism based on the methodology.  (And, frankly, having done studies of that type, trying to find small differences between large numbers via correlation is typically not a robust methodology.)  By contrast, the US CDC, found only about 600 new cases via direct contact tracing.  (And yet, the contact tracing approach is likely an underestimate, given how piecemeal it is and given that the majority of Americans won't cooperate with contact tracing (see Post #1197.)   And if you look a bit closer, you'll realize that in some states, contact tracing finds something like 5% of total cases (per this NPR news article).
In any case, Sturgis 2021 happened, and South Dakota's new case rate quadrupled, and I would guess that somebody will have some interest in seeing whether that's cause-and-effect or not.  I would expect to see some repeat of last year's debate on whether or not the Sturgis festival was a superspreader event, even though this is not an exact repeat of the post-Sturgis surge in SD cases that occurred last year.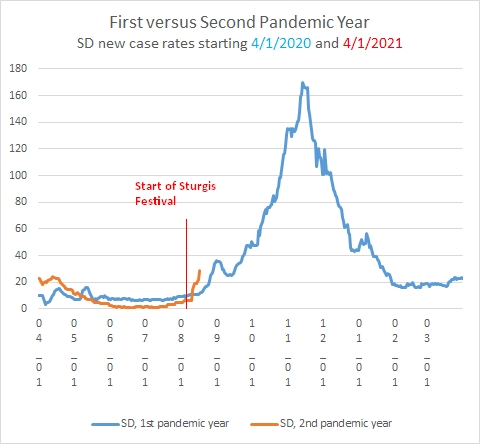 In both years, the Sturgis festival started on August 6.  Last year there was a longer lag between festival start and uptick in reported SD cases.  There might be a purely technical reason for that.  Last year, more-or-less all testing was done via PCR tests.  There's a lag involved for the lab to process the test, report it back, and so on.  Now, antigen (quick) testing is much more common.  These almost immediately.   That may have shortened the interval from testing to reporting.
On yet the other, other hand, maybe this is just what the Dakotas do this time of year.  Last year, ND and SD led the pack into the U.S. winter wave.  It's hard to argue that Sturgis could have had as large an impact on ND as it did on SD.  This coincident rises in the Dakotas seem like a pretty strong argument for the timing of the uptick to be mere coincidence.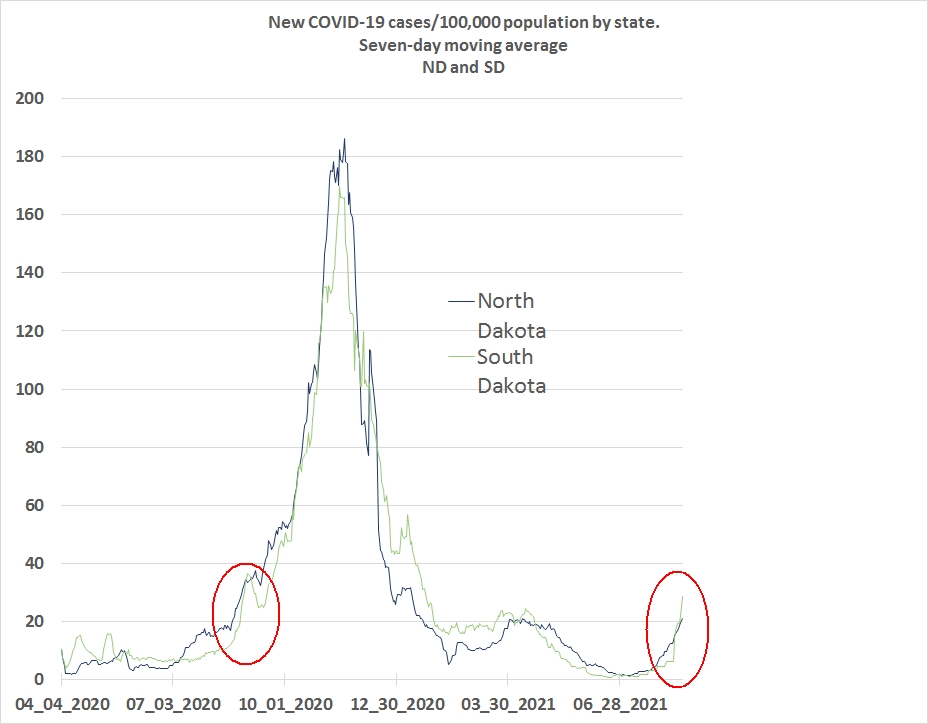 Finally, the SD number is for South Dakota residents only (per the SD COVID-19 dashboard).  The post-Sturgis upticks in 2020 and 2021 are NOT the result of out-of-state motorcyclists testing positive while in SD.