This is the last look we'll have at the trend until next Tuesday, owing to the combination of the Thanksgiving holiday and the subsequent weekend.
As of now, the story remains the same:  So far, it's a slow and mild winter wave for the U.S. as a whole, compared to last year.
For me, beyond that, the only thing to have changed is the reduced rhetoric about massive increases in air travel and the inevitable "surge" (a.k.a., "explosion") in post-holiday cases.  That seems largely lacking this year, compared to last.
Plausibly, our experts have learned from last year.  Equally plausibly, nobody cares any more.  Either way, as with (e.g.) the monthly count of U.S. military personnel killed in Afghanistan, the lack of that in the news is something to be thankful for today.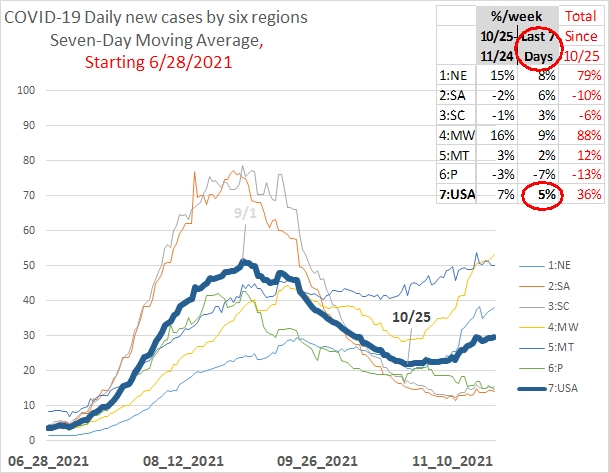 Data source for this and other graphs of new case counts:  Calculated from The New York Times. (2021). Coronavirus (Covid-19) Data in the United States. Retrieved 11/25/2021, from https://github.com/nytimes/covid-19-data."  The NY Times U.S. tracking page may be found at https://www.nytimes.com/interactive/2020/us/coronavirus-us-cases.html.
If we were to compare the regions in turn, only the Northeast is on the same track as last year: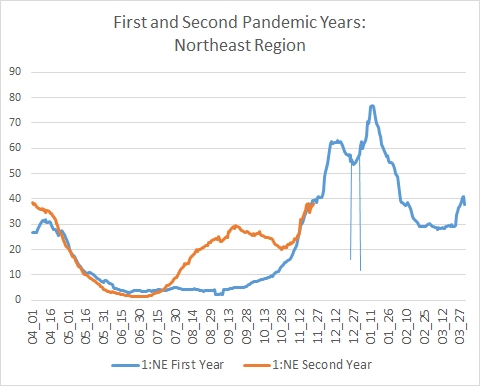 Every other region is on some version of "not as fast", "not as soon", or "too early to tell".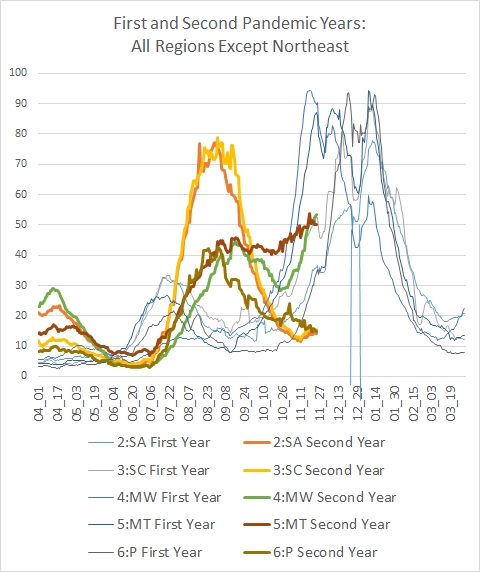 Finally, it looks like holiday air travel has very nearly returned to the pre-pandemic level.  Below, gray = 2019, blue = 2021.  The chart as aligned so that the day before Thanksgiving is the last day for each year shown.
Prior to Thanksgiving, it looks like air travel was running about half-a-million passengers shy of the 2019 level.  But the large uptick in Thanksgiving air travel this year (end of the blue line) brings this past week's air traffic quite close to the 2019 level.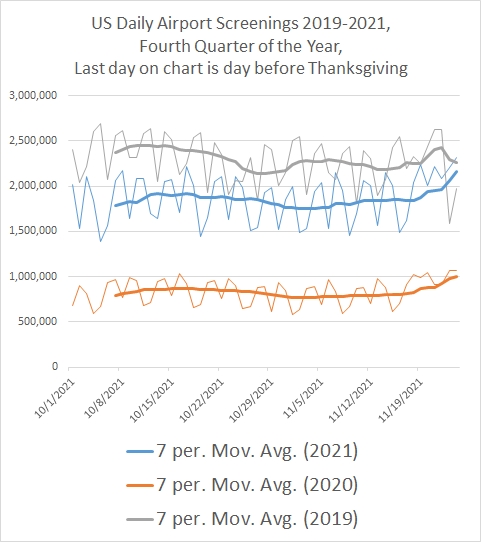 Source:  Calculated from the U.S. Transportation Safety Administration website.