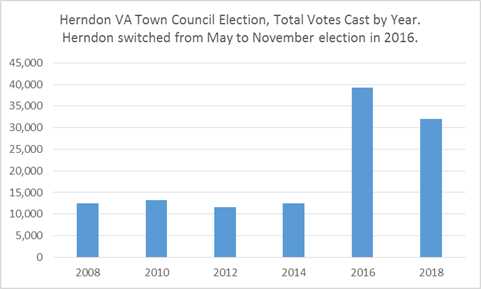 N.B., That exceeds the population of Herndon because that's total votes for all open seats, not total voters.
In Post #340, August 2019, I made the case for moving the Town of Vienna elections to November, to coincide with the general election.  If you think that voter participation is a good thing, all you had to do is look to the well-run Town of Herndon to see what happened to voter participation when they did that (above).
In Post #1059, I noted that the Virginia legislature had passed a bill moving all elections to November.  There's some interesting detail there, including the fact that this was uniformly opposed by all Republican state legislators.
That bill has since been signed by Governor Northam.  As a result, this is probably the last May election in Town of Vienna history. Continue reading Post #1135: The final Town of Vienna May election.