Edit:  I'm going to have to modify this.  Yes, the retail space is empty.  No, there are no indications that any of it has been let — no coming-soon signs, no nothing.  And yet, the company that is leasing the space says that half of that retail space is already leased.  Given that, I'm going to have to cut this in half.  All the space is empty, but per the realty company leasing the space, only half of the space, not all of the space, remains unleased at this time.
If you want to see what Maple Avenue will look like, some time after the Vienna Town Council passes the new zoning this December, arguably the best place to look is Scout on the Circle.  This is the new mixed-use development that replaced a shopping center on the corner of Route 50 and Blake Lane.  Five stories of apartments over some retail.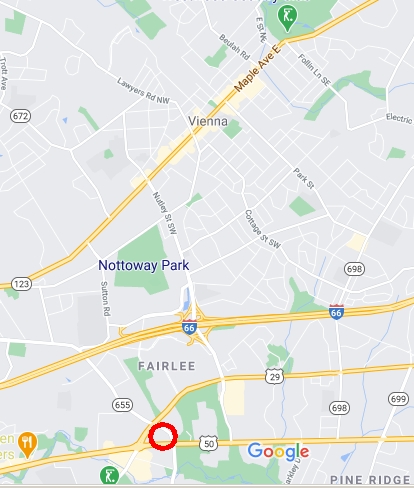 Source:  Google Maps, copyright Google.
I walked around there yesterday.  If you have an interest in the Town's new zoning, you might want to do the same.
What caught my eye?  All of the retail space is still empty.  There's a Giant Food, in operation.  Giant partnered with the developer from the beginning.  But beyond that, there's literally nothing else.  They've got roughly 30,000 square feet of top-notch, high-quality, completely empty ground-floor retail space.
I wonder if the Town of Vienna government might take a minute to ponder this.  True, that building has only been open since June of last year.  True, we're in a pandemic.  True, it's a stand-alone location, so that unless you live there, you have to want to make that a destination in order to shop there.
But even with that, zero is an interesting number.  Exceptional, as it were.  If I were in the process of converting my retail district into buildings just like that, I'd want to know why all that expensive new retail space is still empty, just down the road.
Possibly, merchants are clamoring for the space, but their rental applications are still in the pipeline.  Possibly, those spaces have been rented, but nobody bothered to post any "coming soon" announcements.  Possibly, not enough apartments are rented for merchants to take a gamble on renting the space in anticipating of serving mainly those apartment dwellers.
But the plain reading of it is that none of that space has been rented.  And since it looks like we're going to commit the Town of Vienna to that same path, come the end of the year, wouldn't it be nice to know why?
And I guess I have one more thing to say.  If you're not all that keen on opening up Maple for medium-density housing, talk to your Town Council members sooner, rather than later.  The way I see it, as they are changing all the zoning in Vienna (during a pandemic), they are almost exclusively hearing from those with a professional interest in the result.  Those are the folks for whom it pays to be engaged in this process.  They aren't hearing from the average citizen.  Nor will they do any sort of straight-up random-sample survey to ask citizens what they want out of this new zoning.  (Although the answer I got, a few years ago, for redevelopment of Maple, was small buildings and more green space.)
Once this comes up to to a vote in December or so, it'll be too late to make any material changes in the new zoning.  From where I sit, this is being set up so that there will be no choice but to have a 7-0 vote in favor of whatever is presented.  (What I have termed the "cram-down" strategy.)  So if you have an opinion on this topic, now is the time to let Town Council know about it.
Don't start complaining after the buildings go up.  Or after all the new residences on Maple result in even denser traffic.  That will be far too late.  Unlike MAC zoning, this new MAC-plus-more zoning will be irrevocable.  Once they up-zone to a new, higher density as the property owners' right, they will never again be able to down-zone it.
Continue reading Post #1111: Town of Vienna, any lessons from Scout on the Circle?