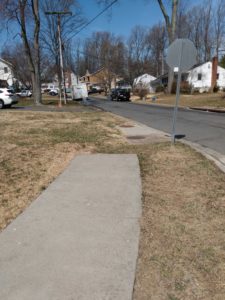 Against my better judgement,  I'm going to start posting occasionally about the Town of Vienna again.  That was, in fact, the original purpose of this website.
I decided to start on an upbeat note.  And so, on one of the nicer days last week, I took a stroll to document some of the  progress the Town had made in putting in new sidewalks.  Using the millions of dollars it had been granted for that purpose by the estate of a former Council member and by reference, a revered former Mayor.
Because, seriously, one posting that combines good weather, free money, a bit of exercise, and civic progress in the form of new sidewalks?  Toss in a kitten on a  roomba and surely this had to be an upbeat post. Continue reading Post #1056: Town of Vienna, am I having a senior moment, or where's the sidewalk?