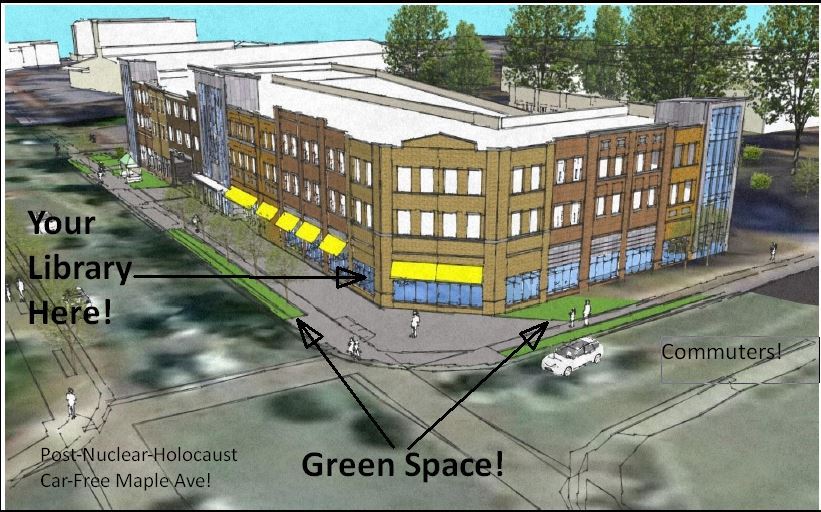 The last item on tonight's (1/27/2020) agenda ticks all the boxes for me.  This is the item whereby the Town Council asks yet a different taxpayer-funded organization to pay for the new commuter garage in Vienna.
Wait, you didn't know there was going to be a commuter garage in Vienna?  That's no surprise, because there isn't going to be one.
I mean, why on earth would anyone drive through this …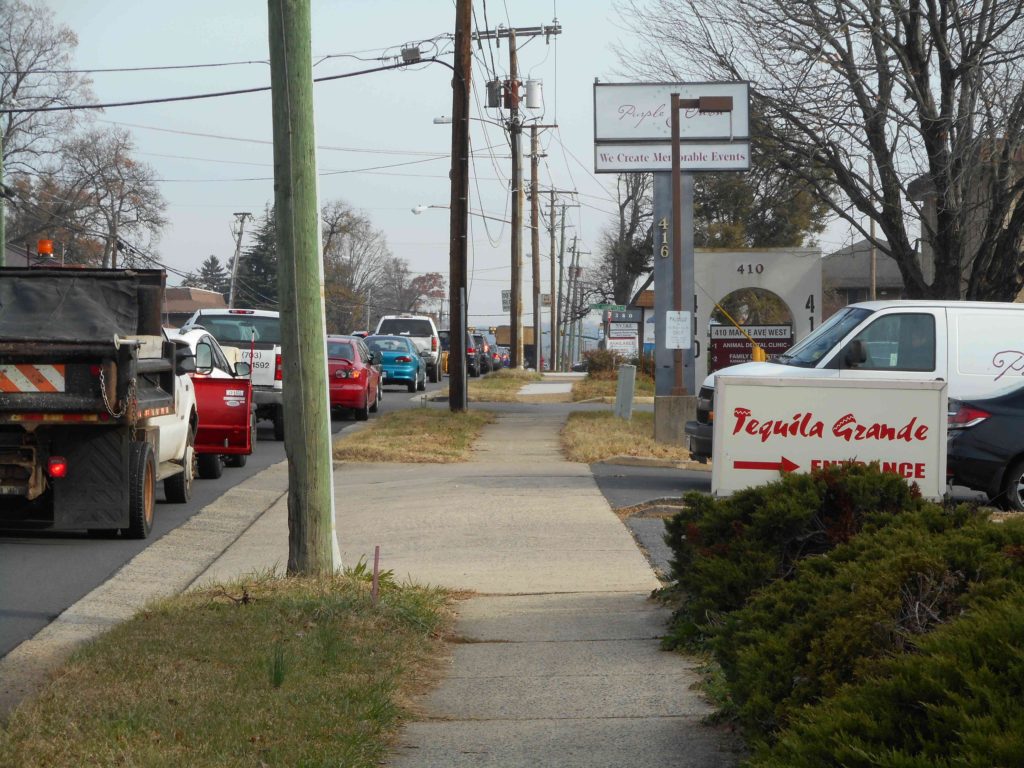 … in order to get to the middle of Vienna, park in the new commuter parking garage, then take the (once-per-half-hour) bus back down Maple Avenue, in order to get back to the Vienna Metro?
Nobody's going to do that.  But our Town government is happy to lie about that, if that fraud means somebody else will pay for the proposed shopper/diner parking garage at the Patrick Henry Library.
On top of committing fraud against the taxpayer by lying about commuter use of this garage, this item has several other features worth noting.  All of which I've touched on before.  It's more-or-less a microcosm of … well, pretty much how I view Town government.
Keep Town Council/Public in the dark.  There's no copy of the staff presentation in the Town Council meeting materials.  This is now standard operating procedure by the Department of Planning and Zoning, and serves to keep both Town Council and (particularly) the public in the dark as long as possible.  Consistent with SOP, if anyone on own Council dares to slap their wrist over this (yet again), DPZ will offer to send them a copy after-the fact.  And the public?  Anything sent out with the meeting packet itself has to be public information, by law.  But if they don't send it out?  Well, you peasants can FOIA it if you want to have a copy of it.  You can see my writeup of this tactic, as the new norm, in the middle of Post #480, which discusses FOIA issues in general.
Ask for a rubber-stamp approval.  Heck, they didn't even bother to provide a copy of the two items that the Town is backing with this resolution.  I.e., the story here seems to be "just say yes, you don't need to bother your little heads about the details of what you're endorsing".  If that's not the definition of rubber-stamping something, I don't know what is.  (And note that the story about the garage continues to change, see below).
We're already overspent the capital budget.  The Town is already so over-spent on its capital budget that it needs this free shopper-diner garage, or it'll have to scramble to find the money.  So Town Council has no choice but to endorse the fraud.  (See, e.g., Post #504, Post #488, Post #485.)
The story keeps changing.  The number of "commuter" parking places in this proposal is less than the number in the prior funding proposal the Town Council approved for the NVTA.  (Versus this new funding proposal, to the NVTC — see last item).  Arguably, that's because the last proposal, for money from a different local government agency, was totally absurd.  So our story about these fictional commuter parking places continues to morph, even as we apply to additional entities to pay for them.  (See, e.g., Post #447, Post #446).
The only option on the table is just plain ugly, but nobody will object.  The only viable parking garage plans result in a new library that squats under a parking garage.  See illustration, and see, e.g., Post #367, Post #369, Post #371, Post #372.
Ready-fire-aim.  The Town will, eventually, get some consultant in to tell it how many parking places it actually needs.  But only after it has already funded both a Church Street "commuter" garage and this Patrick Henry "commuter" garage.  Call me cynical, but I bet the consultant ends up telling the Town that it somehow, though sheer guesswork, funded exactly the right number of spaces, whatever that number turns out to be.  (See, e.g., this post or Post #481 for discussion of other ready-fire-aim studies, or Post #510 for the parking study, or this post from a year ago about the economic development plan that will justify MAC zoning after-the-fact.  The point is, ready-fire-aim is the Town's normal mode of operation in this arena.)
Ludicrous cost. The current lie (to NVTC, as opposed to the previous lie, to NTVA) is now stated as a request for $5.5M to buy 84 "commuter" parking places, or $65,000 per putative commuter parking place.  That's exceptionally expensive, and doesn't even factor in a reasonable utilization rate (i.e., doesn't even account for the fact that commuters aren't going to park there).  See e.g. Post #447 for how the "commuter" garage cost-benefit analysis ought to be done.
We have two local government agencies handing out cash?  Where do I stand in line?  Yes, the first application was to the NVTA.  That's the organization we suckered into paying for half the Mill Street Garage 59% of the Church Street Garage, or whatever-the-heck portion of whatever-the-heck actually gets built, if anything.  (See Post #491 for explanation.)  I mean, it's the taxpayers' money, so it's not like anybody needs to care about it, or anything.  So, whatever. Noted above, we've already put in an application to NVTA, promising that all the parking places in this new garage will be for commuters (Post #446).  But this new application, for funding the same garage, is to NVTC, and I don't think we're promising every space is a commuter space.  (But how can I tell, since there's no copy of the actual proposal posted.)  In any case, we haven't scammed them yet.  In short:  Two different taxpayer-financed tax spigots, two different applications.  The names are so alike that staff stumbled over the acronyms at the last Town Council session on this.
Except for that last point, I've documented all of this before, so I don't see the need to write this up again.  Read the prior posts if you want the details.