This relates back to post #G21-003, regarding a shortage of canning lids.
A month ago, people across the U.S. were having trouble finding lids for home canning.  That included my neighborhood, Vienna, VA.  These lids are single-use items, and they simply were not on store shelves.  U.S.-made name-brand lids normally cost something like a quarter each, for wide-mouth lids.  And nobody had them for anything near the "normal" price.
At that time, my guess was that when manufacturers started shipping for the 2021 canning season, this problem would be solved.
And as of 4/18/2021, it looked like the shortage was over (Post #G21-013).  Around here, at least.  The shelves had been restocked and you could buy as many as you wanted at the normal price.
I spoke too soon. That happy situation only lasted about three weeks.  Now, it's hit-or-miss as to whether my local suppliers have lids on the shelf.
---
Mixed results at three
four

local stores

I have three places in my area where I normally buy canning supplies.  Here's the status of those places, three weeks after I declared the problem was solved.

Walmart.  No lids on the shelf, no lids listed on the website for a normal price.  Boxes of lids-and-bands are still available.  I went there early today (5/8/2021) and took some pictures.  Everything was neat and orderly.  The shelves had clearly been restocked since last time I checked.  But the only way to buy widemouth lids was a box of lids-and-bands, for about $0.46/lid.  That compares to just over $0.27/lid, if you could find boxes of lids.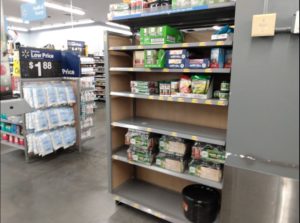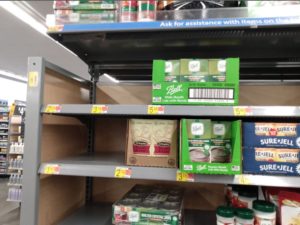 So the situation today at my Walmart is an annoyance, but not a true hardship, when it comes to lids.  You can buy them, in quantity.  You just have to buy them with the bands, and pay $0.20 more per lid.
Giant Food, Vienna VA:  Plenty of lids.  This is not surprise, really, because just about nobody buys canning supplies there.  Honestly, it didn't look like the shelves had been touched since they'd been restocked a few weeks ago.  I don't really understand why Giant even stocks canning supplies.  If you need lids, in this area, there they are.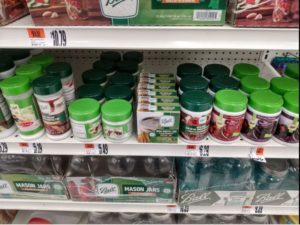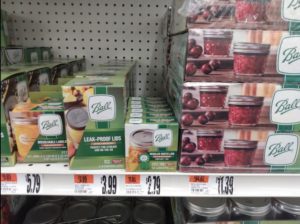 Twins Ace Hardware, Fairfax VA:  Availability depends on the day.  No regular-mouth lids today, but plenty of wide-mouth.  This was my go-to location for canning supplies.  A few days ago, the website said lids were out-of-stock,  but that other Ace Hardware stores in my area still had them.  Today, the website says that lids are in stock there once again.  And after driving there to check, they've got as many wide-mouth lids as you could possibly want, but no regular-mouth lids.  Completely well-stocked for canning, except for the total lack of regular-mouth lids.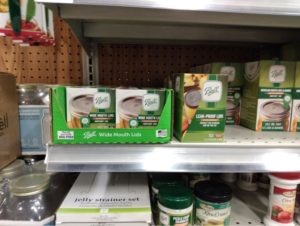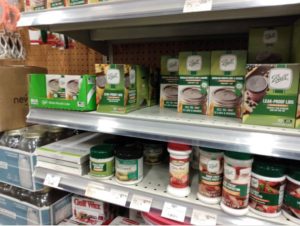 Edit, 5-12-2021:  Wegmans.  I've never shopped for canning supplies at our local Wegmans grocery, but they stock a fully array.  Or did.  My wife stopped by there yesterday (5/11/2021).  Boxes of lids were out-of-stock, with a "limit two per customer sign" posted.  And, same as Walmart, there were plenty of boxes of bands-and-lids.  So only the low-cost stock had been sold out.  You can buy lids, you just have to pay $0.20 more per lid, for bands-and-lids, than you would for a box of lids alone.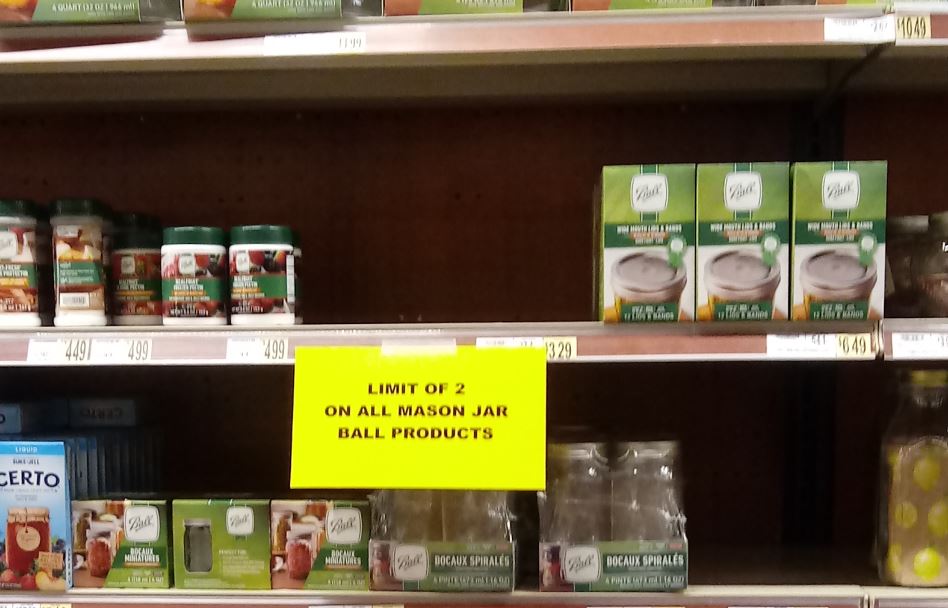 Summary:  In my area, it's nothing like it was a month ago, but it's not exactly normal either.  The place where everybody gets canning supplies — Walmart — is down to just the more-expensive packs of lids-and-bands as was our local Wegmans grocery.  The place where nobody thinks to get canning supplies — Giant Food — is perfectly stocked.  And the place that I've always relied on — my local Ace hardware — appears to be struggling to keep the shelf stocked with lids.
I don't think a lot of people in my area do home canning, to speak of.  And I guess it's no surprise that I'm  not really having a problem finding lids right now.  I just have to know where to look.
But if I were in an area with a lot of home canners, and there was only one supplier locally (such as a Walmart)?  I could definitely see where I might have a problem finding lids.  It would just depend on how well-stocked the local supplier was, and how much demand there was for lids this year.
---
Options.
If you're having trouble finding lids locally, here's my rundown on your options.  Assuming you don't want to pay a buck a lid for standard Ball/Kerr lids. And that you can't find boxes of bands-and-lids at a normal price at your local retailer.
I'm not claiming this list below is exhaustive.  This is just a few options that I ran across, that will work with U.S. Ball/mason jars.  I'll reference the post where I wrote up each item.
All my prices below are for widemouth lids.  For reference, a "normal" price at Walmart for Ball brand widemouth lids is about $0.27 per lid.  Walmart also carriers a much cheaper store-brand lid.
Buy re-usable Tattler lids, for about $1.00/lid.  Bear in mind that your cost per use will be much less than that.  I use these occasionally myself.  They operate a little differently from Ball lids.  Follow the directions and they work as advertised.  Writeup was in Post #G21-010.
Buy re-usable Harvest Guard lids, for about $0.76 per lid.  Bear in mind that your cost per use will be much less than that.  These appear to be Tattler knock-off lids.  Writeup was in Post #G21-010.
Buy U.S.-made (Ball/Kerr) single-use lids in bulk from Amazon, about $0.70 per lid.  You will see many offers at around this price, as long as you are willing to buy (say) five dozen or more lids at a time.  Always read the reviews first.  In this case, check that nobody suggests that these are counterfeit or knock-offs instead of genuine Ball/Kerr lids.
Buy single-piece (and probably single-use) U.S. made lids suitable for water-bath canning only.  About $0.50/lid.  I've never used these but the reviews on Amazon are quite good.
Buy foreign-made single-use lids via Amazon, for about $0.30 per lid, in bulk.  You have your pick of offers at that price, but quality sure seems to vary a lot.  Check the reviews before you buy.
Re-use lids:  Free, but risky.  I cannot recommend that, for fear of being sued.  The best write-up I found on lid re-use was from the blog A Traditional Life.  I tested her recommendation to boil lids for 20 minutes, and that does in fact eliminate the groove in the rubber seal.  The results are shown in Post #G21-009, but the picture of the un-boiled (left) and boiled (right) lids tells the entire story.