I've been reading all about the new vaccine mandates imposed by the Biden administration.  So, naturally, I went to see how much vaccinations had risen.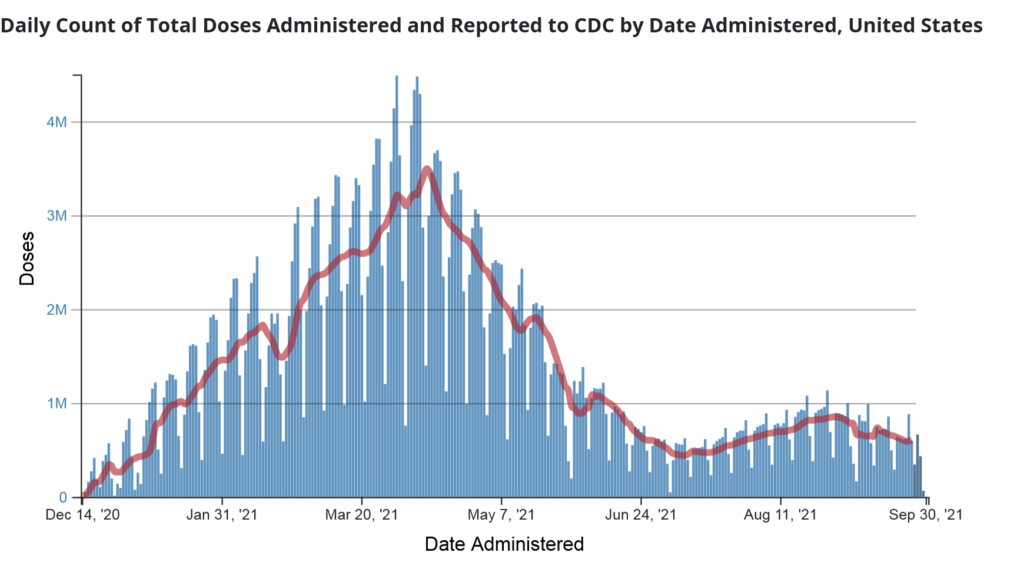 Source:  CDC COVID data tracker.
At that point, I realized that I misunderstood something.  Even though they were announced nearly a month ago (September 9), those vaccine mandates haven't been implemented yet.
And then I started digging, to see when they would actually start to have an impact.  Because this graph below is always lurking in the background.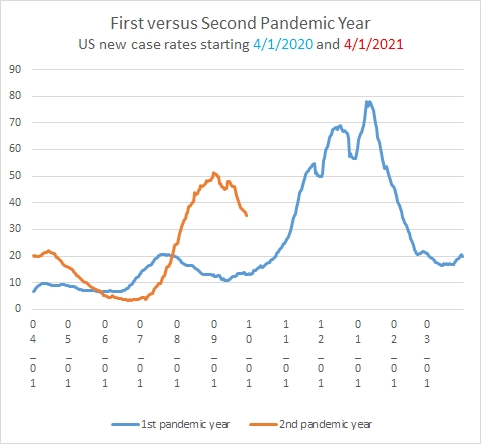 When I finally tracked down the answers, I didn't much like what I saw.  Bottom line is that these new mandates will probably be too late to have an impact on the 2021 winter wave of COVID-19. 
That's what I'm going to work though in this post.
---
The timing
I started to compile my own estimate of how many people are covered by the Biden vaccine mandates.  In the end, I decided to settle for a nice round number of about 100 million, from this source.
The important point is that the bulk of that — about 80 million — consists of employees of private sector firms with more than 100 employees.  (I verified the 80 million figure from Bureau of Labor Statistics data.)  There are separate mandates for civilian federal employees (2 million), for new contracts written by the Federal government (unknowable), and for health care workers in facilities that take Medicare/Medicaid payment (estimated at 17 million, but clearly overlapping the large-employer number).  And maybe for the military and military contractors (maybe 2 million).
The big number is the private sector large employer mandate.  And that key mandate is not yet in place.
The U.S. Occupational Safety and Health Administration is in the process of drafting an "Emergency Temporary Standard" for that mandate.  Near as I can tell, nobody expects that emergency rule to be issued any sooner than November.  (To which I say, emergency?)
Once that is announced in November, employers will be given a deadline for compliance.  Employers appear to be lobbying for three months, based on this reporting.  If true, then, the actual deadline for compliance might come as early as the end of January 2022.  That's about a month after last year's winter wave peaked.

And then, it takes about six weeks to go through the two sets of shots and develop full immunity.  Putting the final impact of this, in terms of population immunity, sometime around mid-March 2022.  Or, based on last year's experience, about the time the winter wave is already well and truly finished on its own.
---
The numbers
The lesson here is that we shouldn't expect the vaccine mandates to help much in containing this year's winter wave. And that's a pity, because if that all could have occurred earlier, it probably would have made a big difference.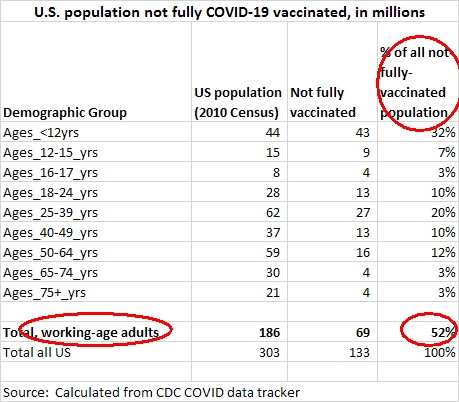 Based on data from CDC, working-age individuals account for more than half of the U.S. population that is not fully vaccinated.  In total, all of Biden's mandates would apply to more than half of that population.  In theory, if it had been implemented months ago, this could have increased the number of vaccinated adults by perhaps 45 million.
Which, no doubt, will be a good thing, if the goal is to get through this pandemic.  But it sure would have been a better thing if it could have happened prior to this year's winter wave.