Cases continues to rise at 77% per week.  Which is, believe it or not, a slower rate of increase than we had one week ago.
The U.S. now stands at 206 new COVID-19 cases / 100K /day.  No area has been spared.  Just three states remain below 100 new cases / 100K / day (of all states reporting data today):   Maine, Montana, and Idaho.
At the other end of the scale, if the data are to be believed, Rhode Island now has nearly 500 cases / 100K / day (seven-day moving average basis).  At that point, it almost doesn't that Omicron is less virulent than Delta.  With that many cases, give it a few days and you will fill your available hospital beds.
The two regions that led the Omicron surge in the U.S. (Northeast, South Atlantic) area slowing.  Much of the rest of the country is still going vertical.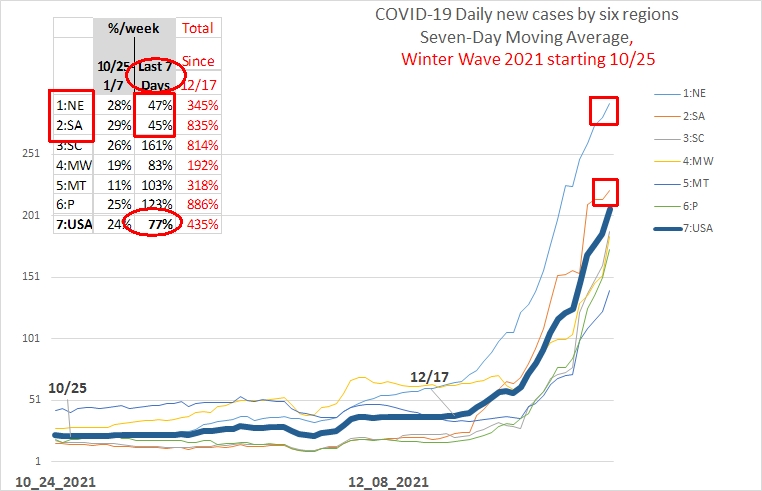 Data source for this and other graphs of new case counts:  Calculated from The New York Times. (2021). Coronavirus (Covid-19) Data in the United States. Retrieved 1/8/2022, from https://github.com/nytimes/covid-19-data."  The NY Times U.S. tracking page may be found at https://www.nytimes.com/interactive/2020/us/coronavirus-us-cases.html.
As of today, our Omicron wave (from start to peak) is longer than that of the U.K.  They seem to have topped out at a new case rate equivalent to 300 new cases / 100K / day.  On paper, at least, we're still not as badly hit by Omicron as the U.K,  But we haven't yet hit our peak, either.
U.S., then U.K., via Google search: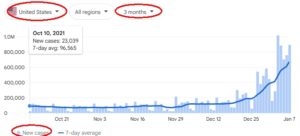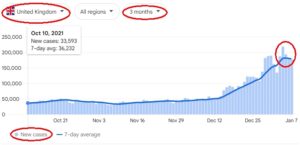 ---
Regional Charts
Well, that U.S. summary was fun.  Here are the state-level plots, by region.  I think you'll see what I mean by "the rest of the country is going vertical". These are all on the same scale, with the Y-axis now topping out at 500 / 100K / day.
Northeast and South Atlantic:  Mostly not vertical.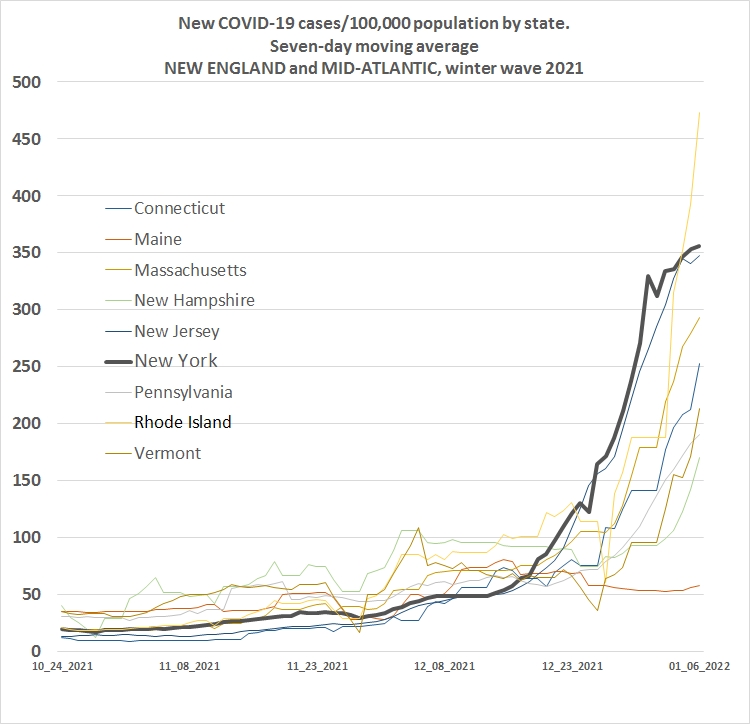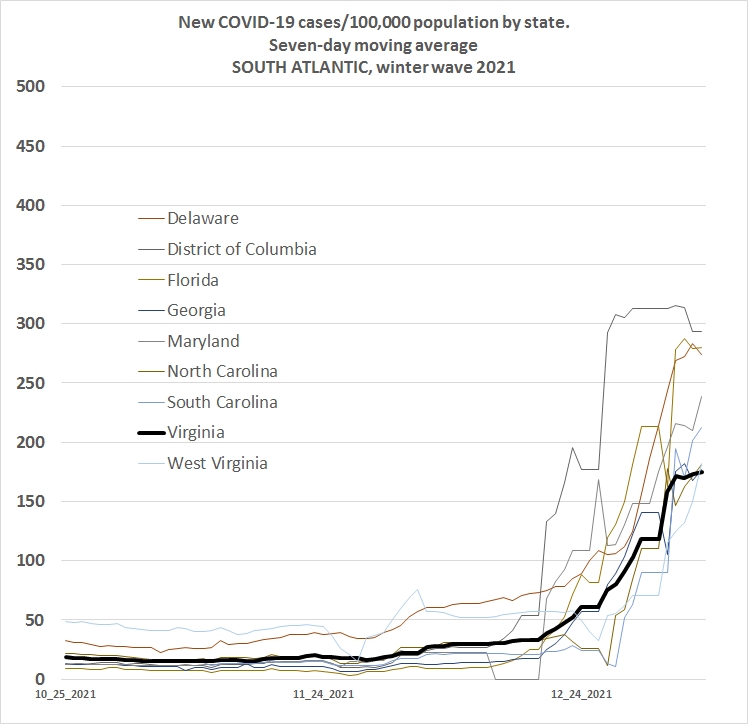 South Central, Midwest, Mountain, and Pacific:  Mostly vertical.