Vienna will be getting a Wawa at the corner of Maple and Nutley.  This appears to be a modest make-over of the existing Coldwell Banker building, and appears to be just a convenience store/restaurant (i.e., no gas pumps).  You can see the plans on the Town of Vienna website, here.  You can see some reporting on this issue, with a picture of the proposed Wawa, here.
This was discussed today (2/1/2019), at a Vienna Board of Architectural Review work session.  But if you want to know what was said, tough luck because a) citizens had less than 24 hours' notice that this would be discussed at 8 this morning, b) those sessions aren't recorded, and c) it typically takes the Town months to post the minutes.
The proposed Wawa is interesting to me for several reasons.
First, this is less than 500 feet from an existing 7-11.  The distance is marked on the map of the Maple/Nutley intersection below.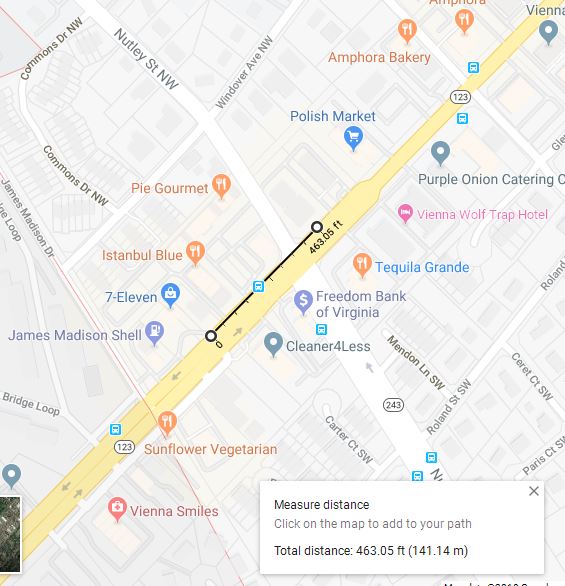 Second, we'll get to see whether the Town offers any protections the nearby homes.  In particular, will this be allowed to be open 24 hours a day?  The house directly behind the Wawa will end up with a well-used commercial dumpster about 20′ from their property line, and an exit from the parking lot about 40′ from the property line.  The competing 7-11 — just 500 feet away — is in fact open 24 hours a day.  Surely the Town of Vienna isn't going to allow this to be a 24-hour-a-day convenience store, given the proximity to residences?  These days, it's anybody's guess what the Town will or won't allow.
Third, the Coldwell Banker building was vacant for just about half a year.  The Coldwell Banker sign came off that building at the end of June last year.  So this another in a string of vacant commercial properties on Maple that have been fairly rapidly repurposed.  E.g., the Rite Aid (closed as part of result Walgreen's purchase of Rite Aid) has now been converted to a Dollar General.  E.g., the building formerly known as Merchant's Tire will soon re-open as Virginia Tire.   This suggests a good economic climate for retail space along Maple Avenue.  It doesn't look like the Town needs any extraordinary measures at all to "save" Maple Avenue retail.
Fourth, Vienna is now slated to have four large convenience stores, as I describe in this post.   Historically, Vienna was not able to support more than two.    This suggests, to me, that the refurbished gas-station-with-convenience store to be built at Maple and Park (same link as above)  is starting off with many strikes against it.  Not only is it burdened with high site remediation costs (they have to dig up and dispose of the old gas tanks and surrounding soil), the gas station is a "conditional use", and the Town took full advantage of that to force the developers there to pay for broad brick sidewalks and for burying the power lines.
Fifth, this Wawa should be a "by right" development.   All they are doing is rehabbing an existing commercial building, to be used in a way that is already allowed under the existing zoning.  If I'm right about that, that means the Town has little leverage for extorting Wawa along the lines of what they got from the Maple and Park gas station redevelopers.  So it will be interesting to see how the Mayor's fixation with burying the power lines works out in this case.  In essence, will Wawa feel like making a half-million dollar charitable donation to the Town of Vienna, in terms of tearing up its sidewalk and burying some power lines?  Or will Wawa tell Vienna what ought to be said:  If the Town wants those buried, the Town should pay to do it.
Finally, let me use this to get back to my main topic of MAC zoning.  Maybe the market is sending a message about the type of retail likely to succeed in the Town of Vienna.   Dollar General?  Two new convenience stores?  Tire store? That ain't the "destination retail" that the MAC statute calls for.
In other jurisdictions such as Falls Church, if the government has an interest in having certain types of retail, they require guarantees from the developers.  Developers literally have to specify what types of retail will occupy the new retail spaces.  But in the developer-friendly Town of Vienna, no such guarantees were required.  For us, the developer's word was good enough.  The developer of 444 Maple West assured the Town that the first floor of that building will have some nice, upscale retail in it.  And that's good enough for us, apparently.
I guess it's my training as an economist, but market transactions have a way of revealing what's feasible.  And what's not.  For me, the fact that Wawa thinks this is a good location just does not bode well for the MAC vision of nothing but upscale "destination retail".
Just think about what you're going to see as you drive into Vienna, from Oakton, along Maple.   Complete this sequence:  Shell station, 7-11, McDonald's, Chick-Fil-A, Wawa, ______________.  
If you filled that blank with something like "Michelin 3-star restaurant", then you should run for Town Council.  Because, taken at face value, that's what they're expecting for the 444 Maple West (Tequila Grande) building.  They have the developer's word that something nice and upscale will fill that space.  But I think the market is telling us otherwise.