This is a brief review of the 5/8/2019 Planning Commission meeting.
There were two items on the agenda:  Bear Branch Tavern — a new 250-seat restaurant planned for the first floor of 133 Maple Avenue East (tan office building next to the W&OD trail), and the proposed Sunrise assisted living facility at Maple and Center.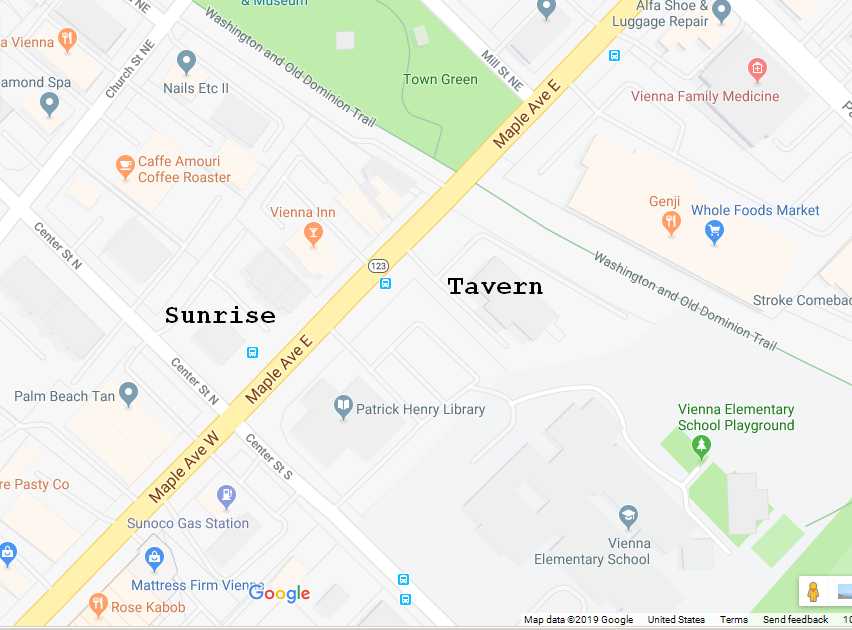 You can find my audio file at this Google Drive location (look for "2019-05-08 …").  The Town's sound system was acting oddly during most of the meeting so I am not sure how intelligible the recording is.  There is no separate index for this recording, but it starts at roughly 8 PM, and I note the times in my writeup here.  E.g., something that occurred at 9 PM will show up about one hour into the recording.
Bear Branch Tavern:  Some months back, they had been granted an exception to the zoning rules for parking, with the idea being that the restaurant would be busy after normal business hours and so would have full use of the entire parking lot for the building.  Here, they wanted a permission to have outdoor dining "conditional use permit" for outdoor dining.  They plan to have live music three nights a week, and the issue was noise.
For Sunrise, the short description is that many people, including business owners from the surrounding area, thought that Sunrise was going to add to parking problems in that neighborhood.  There was a proposal to resolve this by simply dropping the retail space from the building, which would be legal under MAC statute.
In the end, there was a 4-3 vote in favor of recommending a conditional use permit, for assisted living, at this site.  Commissioner Miller noted that, in general, none of the people there knew how to evaluate an assisted living facility, and that maybe it would be smart to ask from help from Fairfax County, which has an advisory board to deal with these issues.  In the end, that was voted down.
This will now go to the Board of Zoning Appeals, for the conditional use permit.  And the Planning Commission has to vote on the building itself.  And then go to Town Council.
I will add to this post this afternoon.  But that's the gist of what happened.