This post updates some key graphs to 6/6/2020.  New cases appear to be slowing.  For Fairfax County, the seven-day moving average of daily new cases finally broke below 200 cases this week.
There's no noticeable increase in new COVID-19 cases from Phase I re-opening in Virginia.  This matches my earlier analysis of US national data, and appears to match the European re-opening experience, as reported here.
Impact of re-opening, Phase I, in Virginia, update to 6/6/2020

Source:  Analysis of county-level data as reported by the Virginia Department of Health.  NoVA plus is Northern Virginia, Richmond City, and Accomack County.  The latter is in the late-reopening group because because they had 500+ cases of COVID-19 in two poultry processing plants.
The red line is the areas that entered Phase I re-opening on 6/15/2020.  Any resulting uptick in cases should have appeared by now.  Those areas are now entering Phase II of re-opening.
---
Total cases, Vienna ZIP codes, counts for 22180 shown, update to 6/6/2020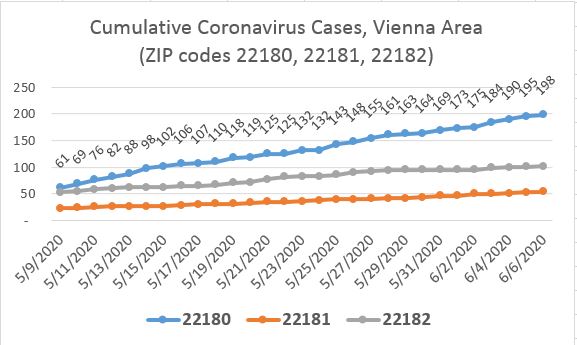 This past week, Vienna (22180) averaged about 5 new cases a day.  Given the small numbers, that's not really significantly different from the 3 per day that it averaged in the prior week.
---
Daily new cases, Virginia and Fairfax County, last 28 days, update to 6/6/2020


The seven-day moving average dropped to 800 cases/day in the Commonwealth, and broke below 200 cases/day in Fairfax.  It's still too soon to tell if that's a real trend or just more random up-and-down variation.