Daily new COVID-19 cases in Virginia and Fairfax County, updated to data reported 7/7/2020.  Blue = Virginia, Orange = Fairfax County.
An odd thing happened with today's count of diagnosed COVID-19 cases in Fairfax.  It fell.  We lost 14 cases from the cumulative diagnosed COVID-19 case count for Fairfax County.  Presumably, that occurs when the test results for "probable" COVID-19 cases show that the persons didn't actually have that disease.  They are then removed from the case count.
These corrections have been occurring all along, they are just normally hidden beneath the overall high growth rate.   We only see them show up, as a negative number, when the number of new cases is quite small.   For example, we've seen the case count in Vienna (ZIP 22180) fall a few times.  And we see that because, typically, we only add a case or two per day, if that, in Vienna.
So, we can infer that Fairfax County had few new cases reported today.  We can't say exactly how few, owing to the size of this correction.
(Alternatively, those cases might have been mis-classified as to location, and were simply moved to some other jurisdiction.  That seems unlikely, as there was no jump in cases in (e.g.) Fairfax City or Falls Church.)
Near as I can tell, the adjustment is unrelated to the large number of cases age 10 to 19 that appeared in the Fairfax data in the past few days (Post #744).  When I compare 7/7/2020 to 7/5/2020 data by age (Virginia did not post the 7/6/2020 file by age), most of the adjustment seems to have come from the elderly.  But it is also worth noting that there was no continued high growth of cases among the 10-19 age group, suggesting that was some sort of one-off incident.
For Virginia as a whole, the seven-day moving average seems to be slowly rising toward 600 new cases per day, up from a low of about 500 maybe three weeks back.
But the overall Virginia number is composed of stable case counts in the "late reopening" areas, and slowly rising case counts elsewhere.  Here's that comparison, updated to 7/7/2020: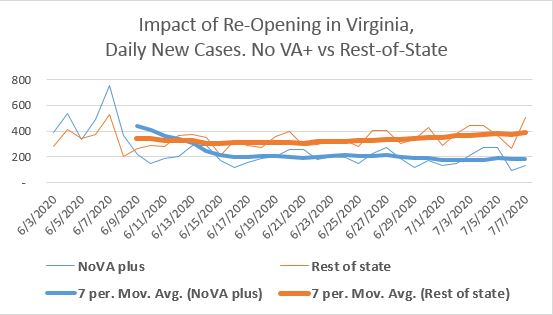 Source:  Same as above.  Blue is NoVA+Richmond City+Accomack County.  Orange is the rest of the state.
As I noted in earlier posts, that largest driver of that case growth is young adults in the Hampton Roads area (Post #744).
Vienna (22180) added four cases last week, for a total of 232 so far in ZIP code 22180.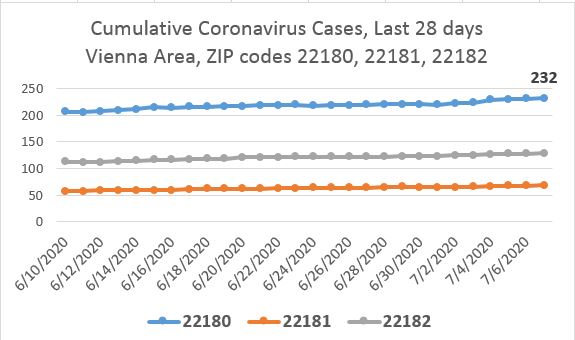 Source:  Same as above.