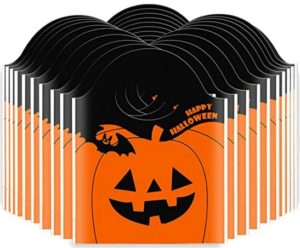 Source:  Amazon.com. These are sold out, but there are plenty of others available.
This is just a quick followup to Post #851 and earlier posts on this year's Halloween.
My best guess (and recommendation) for this year is that face-to-face trick-or-treating will be avoided.  And that, instead, candy-givers will be putting out bags of candy for the trick-or-treaters to grab.  I posted my attempt at a full set of rules in Post #832, and following a complete write up of the social issues in Post #831.
At the time, my guess was that if American coalesced around this approach, we'd know because those treat bags would be in short supply.
Well, it ain't happening yet.  Not even close.  I just checked Amazon, and you've got your pick of cheap goodie bags left.  So, with two weeks to go, it doesn't look like there's any huge groundswell for this approach.  At least, not enough to cause shortages of decorative bags.  I'll check it once more before Halloween.
That said, that's what I'm doing this year.  Goodie bags on the front porch, and otherwise, keep your distance.