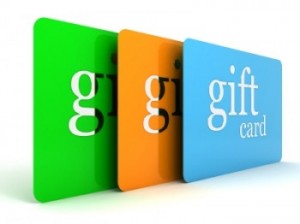 It's no secret that a lot of retail businesses along Maple Avenue are hurting right now. Along with small retail businesses in the rest of America.
Gift cards are frequently mentioned as a way to help your local merchants.  Buy some now, and cash them in later, and you've put some much-needed money into the hands of your local businesses.
Well, not so fast.  Turns out, there are two different types of gift cards.  Some of them do, in fact, put the money in the merchant's hands.  Others don't.  And you should be aware of this before you buy.
If you buy a gift card directly from the merchant, or from that merchant's website, chances are pretty good that the merchant gets the money up front.  Cards sold directly by a merchant are typically "closed loop" gift cards that can only be used to buy from that particular merchant.  The purchase and use of the card are recorded and tracked by that merchant's credit card processor ("merchant bank").  And the merchant does, in fact, have the use of the money from that gift card purchase up front, and only incurs costs as you spend down the balance on the card.
But if you go to a generic gift card site, such as Giftly, even though it looks as if you've selected a merchant, in fact, you haven't.  For little local businesses such as you would find on Maple Avenue, those generic gift card sites sell "open loop" gift cards.  Those are simply pre-paid generic credit cards.  Because those cards can be used anywhere, the money does NOT go to the merchant you have selected.  It only gets into the merchant's hands as you use the card — exactly as if you'd used your own credit card for each purchase.
These typically will let you select a merchant (a restaurant, say), and will even print the name of the merchant on the card.  But the giveaway is that they describe this as the "suggested use" or similar.  And they will note that you can use the card at that merchant, or anywhere else.  That means these are "open loop" cards, and Giftly — not the selected merchant — keeps the money until you spend down the balance of the card.
Giftly, for example, offers a page where you can select any Vienna restaurant for your gift card.  And, sure, they'll print the name of the restaurant on the card for you.  But note the exact language:
Suggest a business you think the recipient will enjoy. The recipient redeems online and chooses how to receive the gifted funds, which they can spend at the suggested business or anywhere else they like.
If your gift card recipient will duly spend the balance down at the listed restaurant, and would not have gone there otherwise, then sure, you've generated new business for that restaurant.
But if you're of a mind to buy some cards now, thinking you'll redeem them much later, when business conditions are better — don't buy open-loop cards.  The money stays with the card issuer.  Just as if you were using a credit card, the money only gets to the merchant when you make your purchases.  Buying and holding "open loop" cards doesn't put that money balance into the merchant's hands.
It certainly is tempting to buy from a source like Giftly, because they make it so easy.  There are all the restaurants in Vienna, laid out on one page.  By contrast, finding out how to buy a closed-loop gift card, from any one merchant, can be a real chore — assuming that they even offer one.  But if your goal is to put a little extra money in the hands of a favored restaurant or store, and hold that card until (say ) 2022, buying a closed-loop card is the only way to do that.  And 99 times out of 100, for a small local merchant, the only way to do that is directly from the merchant or the merchant's website.