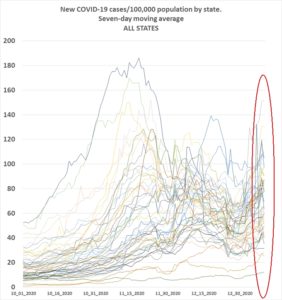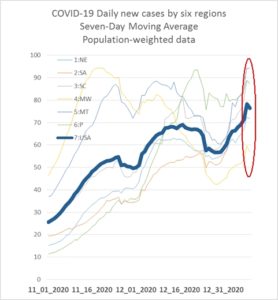 Data through 1/9/2021.
I thought we were past all the data reporting artifacts associated with holidays, but that wasn't true.  This most recent little "hook" on the trends for many states related back to January 1/January 2.  A lot of states reported zero for January 1, and then reported two days' worth of counts on January 2.  The most recent seven-day moving average starts with January 3, and so is finally beyond that.  With any luck, there will be no more artifacts in the data.
The fact remains that new case counts in most states are trending modestly upward.  Five geographically-diverse states now have more than 100 new cases/ 100,000/ day:
But in general, where the first and second waves were marked by growing case rates in a few areas, at present, what's driving the US total upward is a broad-based steady growth across almost all the states.  That's clearly visible in the upward slant of the tangle of lines at the right edge of the first graph above.