The count of daily new cases continues to decline.  The U.S. now stands at 32.2 new cases per 100K per day, down 37 percent from the 9/1/2021 peak and down 12 percent over the past seven days.  The overall decline continues to be driven by rapid reductions in new cases in the South.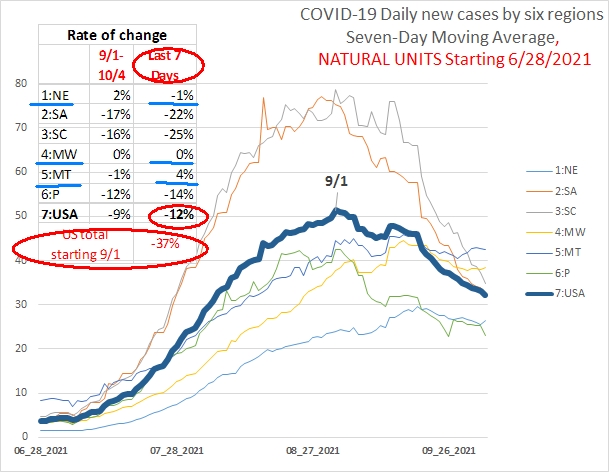 Data source for this and other graphs of new case counts:  Calculated from The New York Times. (2021). Coronavirus (Covid-19) Data in the United States. Retrieved 10/5/2021, from https://github.com/nytimes/covid-19-data."  The NY Times U.S. tracking page may be found at https://www.nytimes.com/interactive/2020/us/coronavirus-us-cases.html.
As you can see underlined in blue above, new-case rates in the Northeast, Midwest, and Mountain regions are more-or-less unchanged since the peak of the Delta wave.
At this point, Alaska had definitely peaked.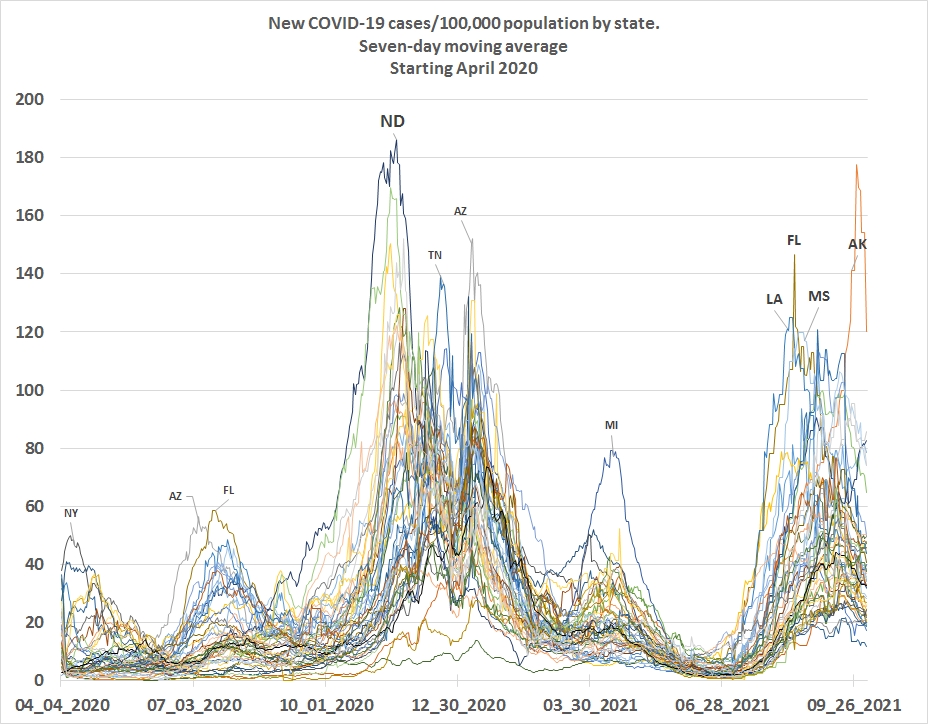 The only states that appear ready to break out of the pack now are North Dakota and Montana.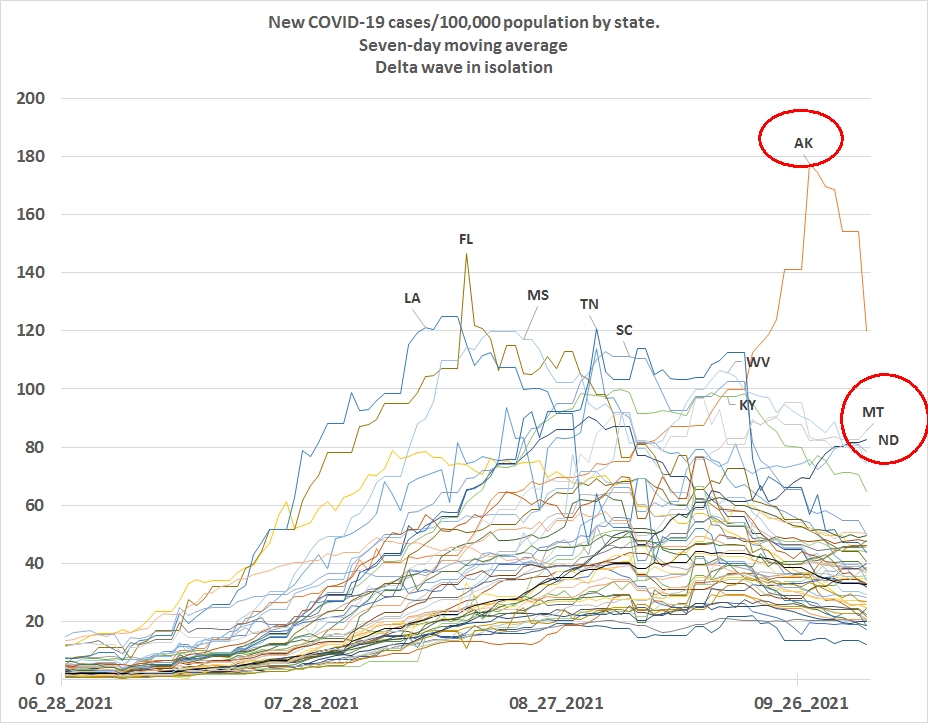 North Dakota, in particular, more-or-less skipped the summertime Delta wave, but now seems to be following last year's curve.  Last year, that state led the U.S. winter wave.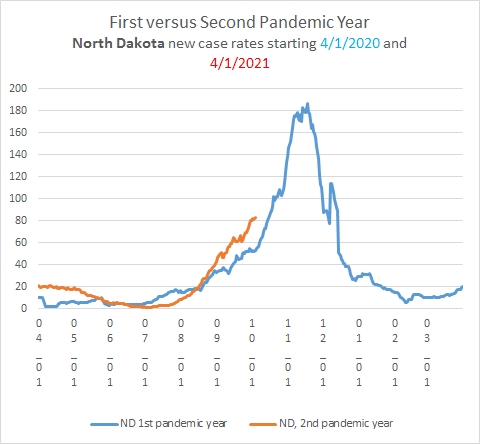 It's hard to say whether that's meaningful, or just straight-up cherry-picking on my part. For example, below, last year South Dakota accompanied North Dakota.  But this year, they parted company about a month ago.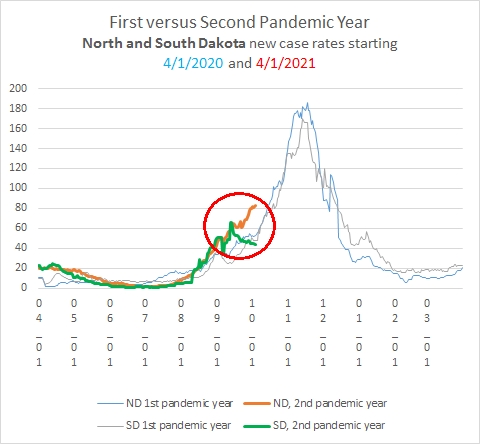 If you look at all the states that led the 2020 winter wave, it's as if they all started in sync, then that began to break up about a month ago.  Really, it's only North Dakota that is clearly following last year's pattern.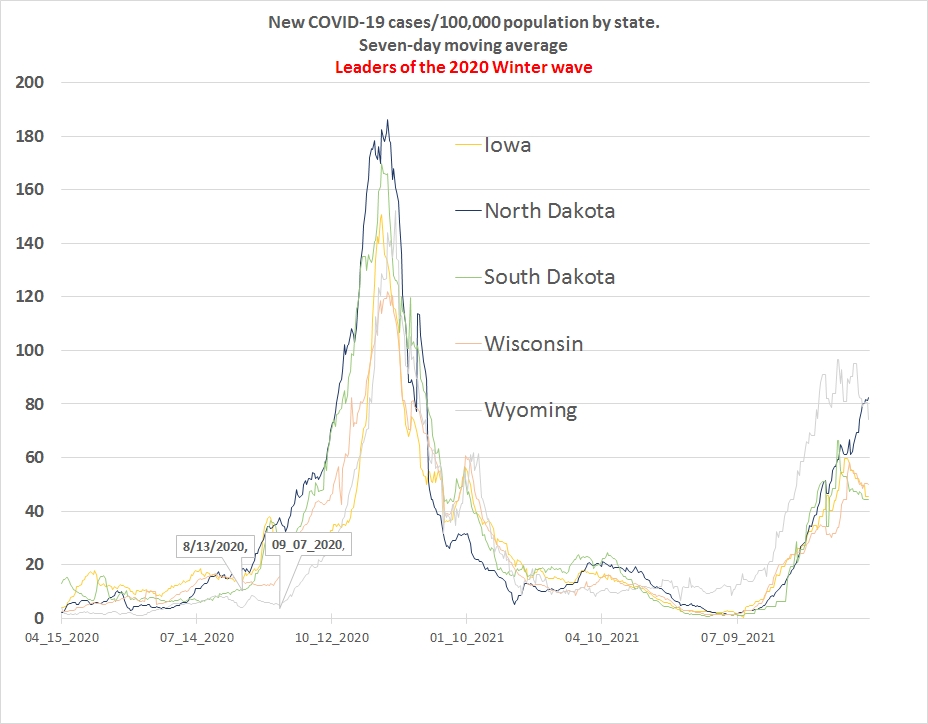 So, the situation remains unclear.  On balance, despite the continued decline on U.S. average new case rates, and the lack of clarity from the states that led last year's winter wave, I still think we're going to have a winter wave this year.  Though, to be fair, you'd be hard pressed to make a case for it, right now, from current data.