Today's data are a bit sketchy owing to the Columbus Day federal holiday.  About a third of states reported no data or trivial counts of new cases.  So take this for what it's worth.
The U.S. stands at 28.6 new COVID-19 cases per 100K per day, down from 30 last Friday.  We're now 44% below the 9/1/2021 peak.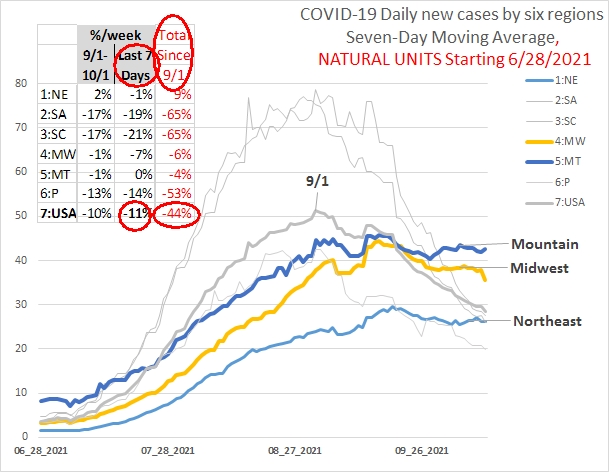 Data source for this and other graphs of new case counts:  Calculated from The New York Times. (2021). Coronavirus (Covid-19) Data in the United States. Retrieved 10/12/2021, from https://github.com/nytimes/covid-19-data."  The NY Times U.S. tracking page may be found at https://www.nytimes.com/interactive/2020/us/coronavirus-us-cases.html.
There is still no sign of a winter wave of COVID-19.  If there is going to be a repeat of last year's winter wave, that clearly ought to be starting soon.  And, so far, the new cases rates for the areas that led last year's winter wave remain steady.