New case counts continued to rebound from the Thanksgiving low.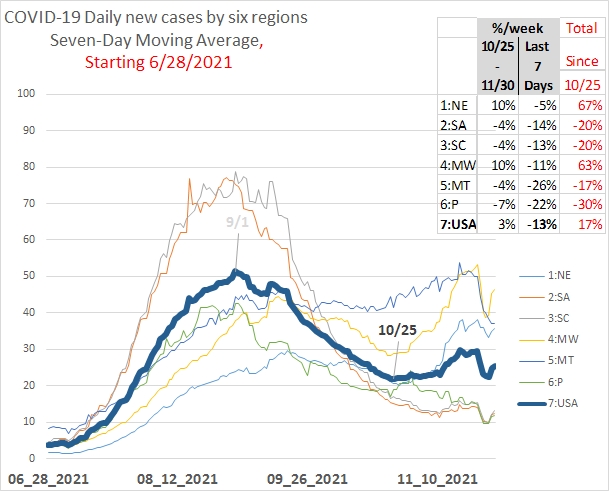 Data source for this and other graphs of new case counts:  Calculated from The New York Times. (2021). Coronavirus (Covid-19) Data in the United States. Retrieved 12/1/2021, from https://github.com/nytimes/covid-19-data."  The NY Times U.S. tracking page may be found at https://www.nytimes.com/interactive/2020/us/coronavirus-us-cases.html.
That said, there's still no indication that we're headed for a broad-based winter wave similar to what we had last year.  Below I've plotted the U.S. case counts from last year (blue), this year (orange), and the ratio of the two (green).  The ratio of this year's rate to last year's rate continues to fall.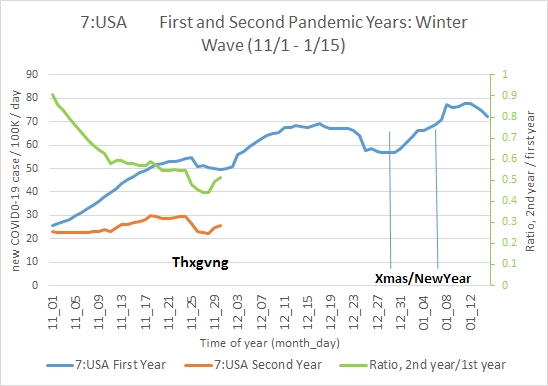 Below, you can see several northern-tier states with high case loads right now (new cases / 100K / day as of 11/30/2021).  But for the most part, those aren't growing rapidly.  No state is anywhere near the 100 cases/ day threshold.  So there is a bit of a winter wave in the colder areas (other than ID, MT, WY as discussed in prior posts).  But for the U.S. as a whole, that's being offset by continued declines in new case rates throughout the deep South and Pacific regions.

California, Texas, and Florida are the top three U.S. states by population.  Declining rates in those three states do a lot to keep the U.S. average stable.
If you look even further north, you don't see much change in Canada, either.  Their current winter wave looks nowhere near as bad as last year's.  And they have no "south" to bring their averages down.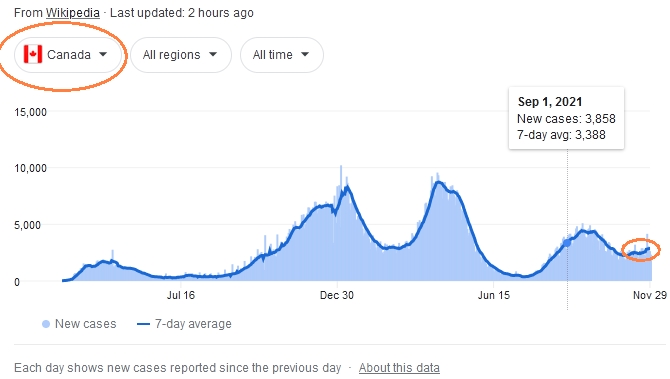 Finally, if we keep to last year's schedule, a lot of those high-rate northern states should be peaking right about now.  Last year, they were already well on the road to recovery by New Year's Day.  Here are MI and MN, last year compared to this year.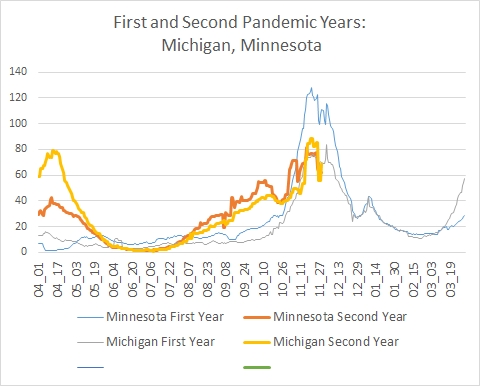 All told, things seem to be a picture of stability right now.  A lot of northern states have high and (for the most part) stable new case rates.   But this is the right time of the year for that.
I have no idea why Europe is having such an awful time, and we're not.  But, so far at least, this is shaping up to be a much milder winter wave than last year in the U.S.