The only reason that's worth mention is that this is the first "real" daily uptick in the national COVID-19 new-case rate since early January.  (The increase following the mid-February winter event and Texas power outage can plausibly be attributed to a glitch in data reporting over that period.)
That, plus rounding error, took a percentage point off the total reduction from the peak.
Daily new cases continue to rise consistently in Michigan and Minnesota.  And a few other scattered states (e.g., NJ).
Otherwise, for the states that ought to be hardest-hit by the more infectious variants?  No pattern.  The states that ought to be nearest to herd immunity, via high historical infection rate combined with vaccination?  No pattern.
Anyone who alleges that cases are rising for some known reason is just kidding themselves, and kidding you.  If you can see some grand mover behind the current set of state trends, you have a sharper eye than I do.
I'm just going to throw the graphs in below in their native (medium) size.  These are all calculated from the NY Times Github COVID-19 data repository, data reported through 3/15/2021.
US: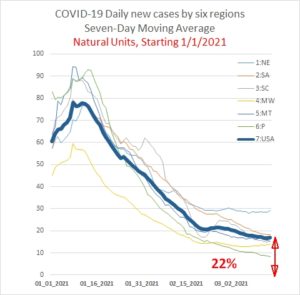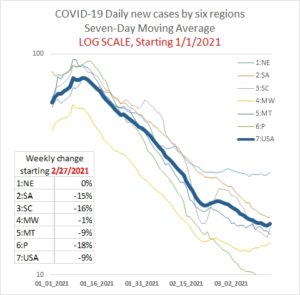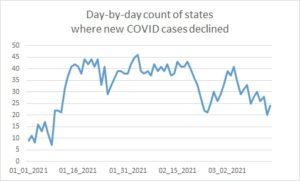 Northeast: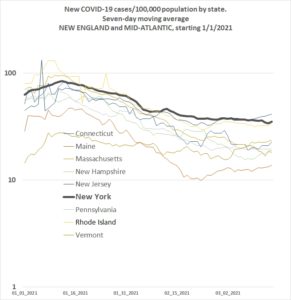 South Atlantic: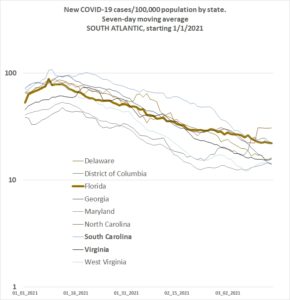 South Central: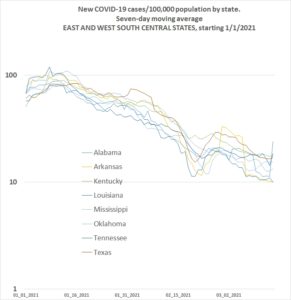 Midwest: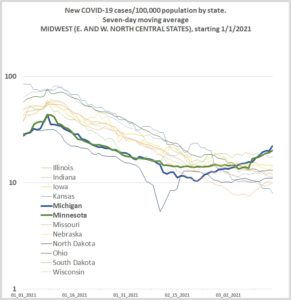 Mountain: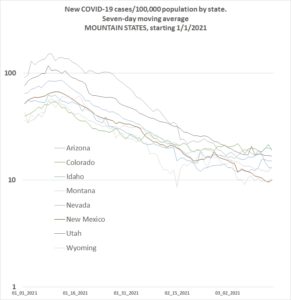 Pacific: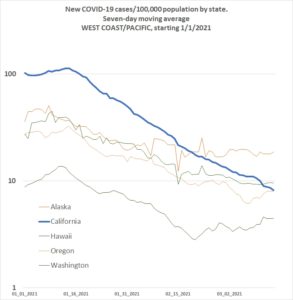 Top 10 for estimated percent of population already immune: