The Canning Lid Shortage of 2021 may be over.  For now, at least.
I heard a rumor, via my wife, that canning supplies were back in stock in the  southern Maryland town where a friend of hers lives.  The local hardware store there hung a big banner in the window to advertise that they had canning jars in stock again.
Today, I decided to check my local grocery store.  And sure enough, what was a moth-eaten display of 2020 leftovers a week ago is now perfectly and fully stocked.
I'm pretty sure that what I'm seeing is the start of seasonal shipments for the 2021 canning season.  And what we have been seeing, on the shelves, for the past few weeks, is the tail-end of the 2020 season.  (But of course that's how I see it, because that's what I've been saying throughout this series of posts on canning lids.)
At any rate, if your local suppliers haven't restocked yet, my guess is, that'll be happening soon.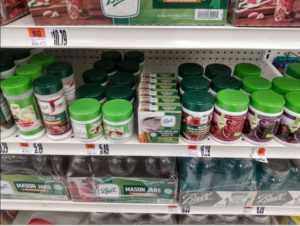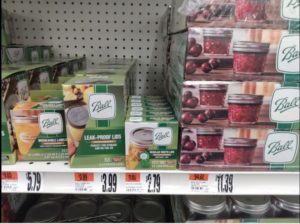 Source:  Giant Food in Vienna, VA, photo taken 4-18-2021.
Sure enough, they're back in stock on the Walmart website, for store pickup only, at a normal price.  Listed as in-stock at my local store.  But not Amazon.  On Amazon, they are still listed for outrageous prices only.

Now that they're back, the question is, will lids be the new toilet paper?  Will people clear the shelves with panic-buying?  Or is the canning community more reasonable and community-spirited than that?
I guess we'll soon see.
Finally, I'll apologize to any Town of Vienna, VA residents who need canning supplies but don't read this.  Previously, my wife had been reposting my gardening posts on the Vienna Plant Swap Facebook group.  Unfortunately, the woman who owns that group determined that I am (or, at least, this blog is) "too political", and banned my wife from reposting my garden blog posts.
(Our Town Council elections are next month — that's the politics in question.)
So, if you live in Vienna, it's not that I've stopped posting about gardening, it's that you no longer are allowed to hear about it via that group.
If I can figure out how to do it, I'll set up something so that, if you wish, you can sign up and I'll send emails when I post about gardening.  I still haven't quite figured out how to do that.